Global Gift Gala 2016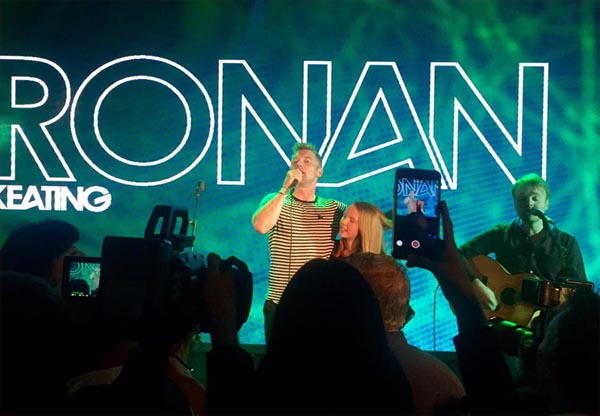 Every year the Global Gift Foundation holds a celebrity golf day in Marbella, followed by a gala. For the past few years, the newly married Eva Longoria-Baston has hosted the gala event, and helped to promote the charity with her long-time friend and co-founder Maria Bravo.
The Global Gift Foundation raises much needed funds for a number of individual projects specifically aimed at improving the lives of women and children who are in desperate need of help around the world.
This year the reigns were handed over to former Boyzone band member and successful solo artist Ronan Keating. The event started at 9am on Saturday morning with a charity golf event where Ronan was also joined by Cold Feet star James Nesbitt. As has become the norm over the last few years, Talk Radio Europe put together a team for the golf tournament with presenter Bill Padley (10am to 12pm daily, except Tuesdays) playing alongside friends Bruce Mack, Steve Mackenzie and myself (PJ Lopez).
This year the golf was held at Estepona Golf who very kindly donated the course for the event. After a hard morning golfing in the Costa del Sol sunshine there was a BBQ at the clubhouse courtesy of Tango steak house in Puerto Banus. Ronan and James also attended and gave out some hard earned prizes for achievements throughout the day. Team TRE's Bruce Mack won the prize for the best front nine holes, but kindly donated the Nike Golf shoes to Talk Radio Europe, for them to auction in their upcoming yearly TRE Telethon for CUDECA (having had them signed by former US Open champion Michael Campbell)
Later in the evening there was a gala dinner at the Gran Melia Don Pepe hotel in Marbella which Hannah Murray of Talk Radio Europe and I were very lucky to be invited to join the La Sala table for the dinner and intimate concert by Ronan Keating.
We arrived at the five star hotel to a cocktail reception with plenty of wine and champagne on offer and a gorgeous selection of canapés, including octopus on a saffron mash and crepes filled with cheese and truffles.
When everyone had arrived we were asked to take our seats for the gala dinner. We joined La Sala owner Ian and has wife Claire (who runs the successful Sala by the Sea beach club), Lindsey and Ollie Medina who both run the La Sala golf events and handle the marketing and branding for La Sala, Lindsey's parents and Joanna (PR and Marketing for La Sala) and her husband.
We were surrounded by some very glamorous people including Ronan Keating and his wife Storm, Laura Hamilton (the host for the evening), Maria Bravo (co-founder of the Global Gift Foundation), actor James Nesbitt, PR guru Nick Ede, DJ for the evening Ashley James, and singer Alesha Dixon.
As we enjoyed our starter of Cream of Courgette with Vegetables and Parmesan Crisp, we were treated to the sounds of the very talented Melissa NKonda who managed to get everyone up dancing, including Alesha Dixon who was bopping around to most of the night's entertainment.
The main course arrived which was Veal with a Creamy Mashed Potato Rateé – it was mouthwatering! This was finished off with a beautiful cheesecake made by Darcis.
As we finished eating Ronan hosted the charity auction with some fantastic items and days out in Spain, the UK, and Ireland. James Nesbitt also gave a speech about the great work that the Marie Keating Foundation does (one of the charities supported this weekend).
Ronan Keating had a quick change, and then took to the stage to sing all the old favourites and had the whole place singing along and dancing. Ronan also sang some tracks from his new album due out soon, before being joined by his daughter for a great finale.
The golf and the gala dinner were a great success, despite Hannah Murray causing me a couple of heart stopping moments by bidding 6,000€ to spend a day at the set of the filming of Cold Feet! (thankfully she was outbid).