Hannahs Blog Number Two
Rob was back on the Breakfast Show with me this week, after some well-deserved time off whilst he became a Dad for the first time. What a difference it's made to the show! We've come up with a few new features and formats. It's funny, but when I hosted the magazine show it was very much a one person show, as it was mainly interviews, but the breakfast show is a very different, and I think always works better with two people.
Thankfully Rob and I both come up with ideas for the show, and we get a long (which always helps!)
One of the guests I had on this week was a watchmaker from the Isle of Man called Roger W. Smith. His watches cost up to £500,000 and there is a waiting list of eight years. Currently there are only 50 people in the world who own one of his watches, as he only makes ten a year! He was a joy to chat to, with a really interesting story to tell.
This week we had Shrove Tuesday, which meant pancakes were on the menu in our house. A listener called in to suggest that I tried chopped banana with dulce de leche and cream. Well of course, I had to oblige. Dulce de leche is one of life's pleasures that can only be enjoyed on occasion, as it is so sweet.
I always like to make a savoury topping before indulging in sweet pancakes, as in my head, that makes it slightly healthier! So PJ and I (OK mainly him) made a cheese sauce with spinach and mushrooms. Ooh it was lovely. The fact that we had one of the savoury pancakes and three of the sweet ones is neither here nor there. Did I mention we had chopped strawberries and Nutella too? Again, when eating sweet things, if you can incorporate fruit, then it's almost good for you, no?!
On Wednesday I popped in to Bookworld Espana in Guadalmina, as sadly they are closing down. I would strongly recommend that you pay them a visit before they do though, as they have some fantastic bargains! You can buy ANY four books for just €10, which I think you'll agree is a great offer. You can also buy any four greetings cards for just €1.
It's such a shame that businesses like these are having to close; no doubt because of online retailers taking over, offering home delivery and often a slightly cheaper price. I will miss walking into Bookworld and having a browse at their latest books.
I think with the way the world is going technology wise, soon you won't be able to buy music, films or books on the high street at all. This will cause a major problem with my Dad, as a book shop is the only place that keeps him sane, whilst on a shopping trip with me and my Mum.
Whilst on the subject of books, it was World Book Day this week which conveniently is always on a Thursday, the same day as my Book Show. One of the interviews I played was with Nathan Filer, the recent recipient of the 2013 Costa Book Award, for his debut novel, 'The Shock of the Fall' It's about a young man's descent into madness, and was inspired by Nathan's own experience working on psychiatric wards.
For him to win the prize as a debut novelist was a huge achievement, as he was up against some fantastic authors who have been in the business a long time, including bestselling novelist Kate Atkinson, who was the favourite to win with her latest novel 'Life after Life'. The interesting and unique thing about the Costa Book Awards is that there is a book chosen from a variety of categories; First Novel, Novel, Biography, Poetry and Children's Book, and the judges have to compare them all and choose an overall winner. It must be incredibly difficult.
There were some high scores at the quiz on Thursday, in fact the highest ever, with 'Universally Challenged' getting every single question right! That has certainly never happened before, so well done guys. It's very difficult judging who's going to know the answers to what questions. Many a time have I put in a question that I think is easy, and nobody gets it, or a question that I haven't got a clue about that everyone else seems to know the answer to! It is right was Chris Tarrant says on 'Who Wants to be a Millionaire', it IS only easy if you know the answer!
Quite a momentous thing from this week is that I have eventually started my journey on becoming a driver. I have managed to get to the age of 33 without ever learning to drive. I can (and have) come up with all kinds of reasons as to how and why this has happened. i.e I've always lived in cities where there is plenty of public transport available, or places where I can walk everywhere (which also has its health benefits and is better for the environment). Pretty convincing eh?
But the truth is I know that being able to drive will be liberating for me, and will open so many doors.
Some other big news is that my parents have sold up in the UK and are moving out to Spain. Literally in a few weeks! They found the house of their dreams when they came over for a holiday last March, and now it's finally happening. They will be between Guaro and Coin, so are going to be a 35 minute drive from us in San Pedro. Being able to drive will mean I can nip up there for lunch and a swim in their pool, (if they don't mind) and be back home early evening for when PJ gets back from work.
We had a lovely weekend, and have decided that the key is to do something social on the Friday night, so you still have the whole weekend ahead!
We were invited to a 60th birthday party in Granada. My Dad's cousin Miles lives there with his wife Sue (whose birthday it was), their daughter Maddie, and his Mum Peg. They run a bar/restaurant called Casa Lopez Correa, which is in a beautiful part of the city and is pretty central.
After checking in at a nearby hotel, we went for a stroll and found the most beautiful tapas place called Taberna de Volapie. PJ surprised me by ordering some interesting things off the menu including a fried octopus salad with a mildly spicy sauce, which was delicious.
At the party I spent the majority of the evening chatting with my Auntie Peg who is 83 and has some fascinating stories to tell. She showed me some of her photos that she keeps with her, that go back to when she was a baby. Peg is a real inspiration to me in how she writes everything down. Since her boys were born in the 70's she has kept a diary, which she has written in every day since! They're five year diaries with just a couple of sentences for each day; a fantastic thing to look back on for her, as well as family and friends.
The next morning we found a breakfast place that did the best Churros con Chocolate (another occasional sweet treat), before setting off on our journey home via IKEA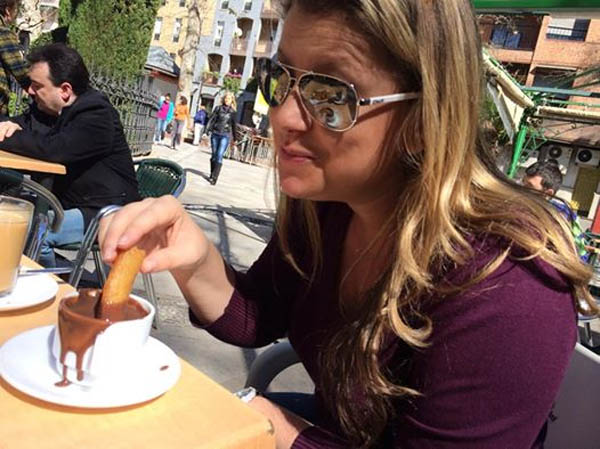 I won't bore you with the details of all the home furnishings that we bought. All I will say is a trip to IKEA = meatballs!
I love the scenery between Granada and Malaga. There are parts where there are rows and rows of trees, all equal distance from one another, and they just look stunning. For some reason I think they look their best in the winter time, when they don't actually have leaves on them. PJ thinks I'm a bit obsessed, as every time we pass them I am frantically trying to take pictures, invariably getting the same kinds of photos. So yes, maybe I am a bit obsessed.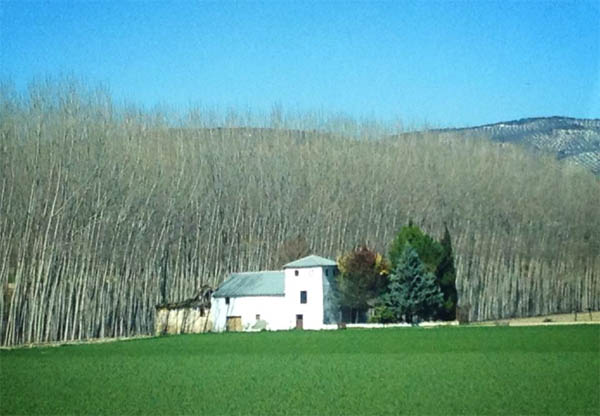 What better way to round off the week than with some great company, and delicious food. We went to the Hogan Stand in San Pedro, as some of my friends had vouchers from winning the quiz. I said to Ross, who manages the restaurant, that he needs to have some things on the menu that don't sound very nice, then it will make it easier to choose what we want!
Some of us were a bit naughty afterwards and had a cocktail. Debbie had a 'Mudslide', while PJ, Percy and I had a 'Toblerone', which tasted exactly as it sounds. YUM!