Hannah Week 12
You might remember from my last blog post that a few girls from work and I went into Marbella to check out a Chinese clothes shop and have some tapas? Well another group of girls and I went again last week, but to a different clothes shop this time.
We couldn't believe what you could get in there and for such low prices! I bought a couple of full length dresses for summer, and Karen bought some lovely shorter summer dresses, all beautiful colours!
Michelle then took us to a tapas restaurant called Bodegas La Venencia, which was great. Real authentic Spanish cuisine, and at Spanish prices! We had a selection to share, including patatas bravas, (potato pieces with a spicy sauce on top), Russian salad, Pork in tomato sauce, adobo (fried marinated fish balls), a plate of Jamon Iberico, and lots more. All washed down with a glass of vino for next to nothing.
We did avoid the sucking pork though (which I had spotted on the menu) I presume they meant suckling, but you never know.
On Friday night PJ and I took a stroll to our local restaurant (and favourite) Trattoria L'Impronta. We couldn't resist sharing the Scallops au Gratin again, and decided to have a pasta dish each for main. PJ went for the ravioli with pumpkin and sage with a tomato sauce. I went for one of the things they gave us in their tasting menu a few weeks ago, the ravioli with mushrooms and truffles. I can't tell you how much we enjoyed both dishes. I will have that again for sure.
After dinner we walked into San Pedro and met up with some friends for a few drinks. El Rincon de la Sala had opened up their roof terrace for the first time, so we had to check it out. It's quite a small space up there, but really lovely to sit out in the open looking at the stars. Was nice to see the view of San Pedro from up there too.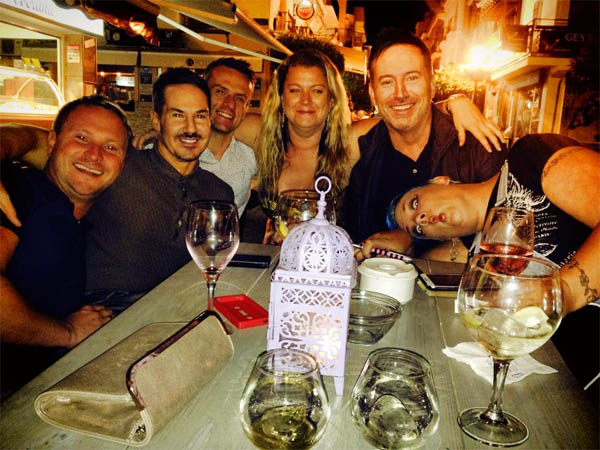 As I had predicted in my weather reports on TRE on Friday's show, on Saturday it rained! I for some reason didn't listen to my own report though and left the house on Saturday morning in a vest top, denim skirt and a pair of flip-flops. I must listen to my weather reports more often I think.
Sunday was long day with lots of tears, both of sadness and of laughter! It was Kenny and Selina's last show together before Kenny leaves for the USA for his new life with his lovely partner Linda. Selina had arranged for a group of us to go into the studio for the last half an hour of their show and surprise Kenny. It was lovely to be there for the last little bit, and hear all the listeners calling in to say their goodbyes and good wishes to Kenny. Many people were crying, and genuinely sad that he was leaving, saying how very much they loved listening to him on the radio.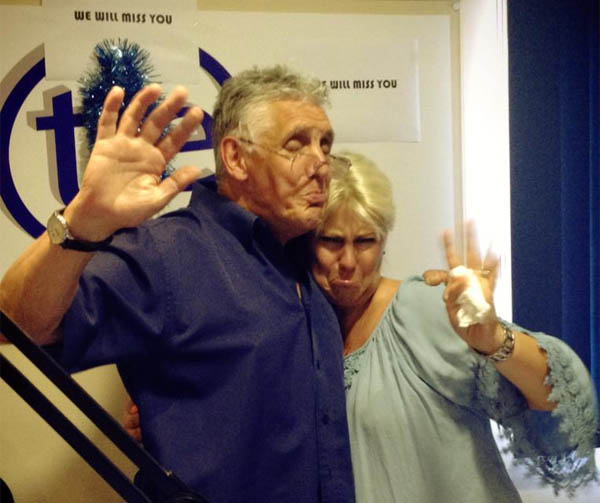 It was very emotional, and lovely to see Kenny get so much praise. I told him afterwards that so many other presenters wouldn't get half the reaction and goodbye that he did, and that listeners can just hear what a lovely, honest man he is.
Our Chairman at Talk Radio Europe, Martin Nathan also came in to say goodbye to Kenny, which was lovely. He wanted to take us all for drinks afterwards in Passion café, so between us all we polished off three bottles of cava, toasting Kenny and Linda and their new life together in America.
Some of us had already arranged to go for lunch at the Hogan Stand (to use a couple of vouchers from various people winning the quiz) so we carried on the celebrations there. The food at Hogan's is always great, and we enjoyed starters like crab fishcakes, breaded garlic mushrooms, and deep fried brie (my favourite). For main, we chose between fish and chips, roast beef with Yorkshire pudding, chicken roulade, and Malaysian vegetable curry. Great job Hogan's!
When it eventually came to saying goodbye to Kenny and Linda, there wasn't a dry eye in the restaurant. Even Caroline, our waitress, couldn't help but get caught up in the emotion of it all! All credit to Kenny and the effect he's had on so many people. I don't think he realised that people don't cry when everyone leaves Marbella!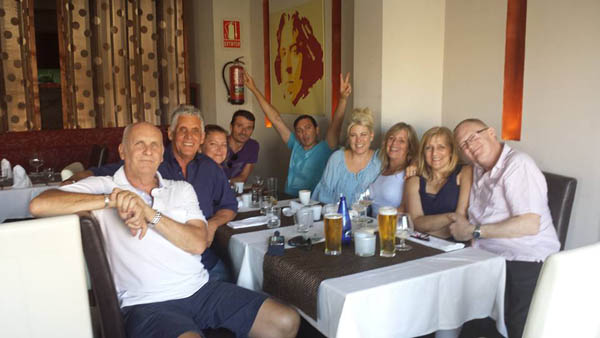 Some of the gang came back to our place (just in case we hadn't had enough fun already) and on the walk back we recreated the Pharrell Williams 'Happy' video. Well, for about a minute anyway. PJ managed to put the music behind it and it looks pretty good (if only for how bad it is), but very funny all the same.
The star of today's videos does seem to be Selina's husband Steve. Just before they left ours (when it was still light I might add) PJ and Steve decided to have a little go at breakdancing. Other than giving our floor a good clean, it gave me and Selina (and everyone who watched the video) such a laugh. I've seen it around 10 times now, and cry with laughter every time!
I love my friends, and love how we were able to turn such a sad day into such a funny one.
Goodbye Kenny and Linda, and lots of love and luck in your new home. Hope to see you guys again soon. It is OK that we all come and stay over for Christmas, isn't it?