Hannah Week 13
Many people think that Facebook is a waste of time, and full of people talking about boring things, like what they had for breakfast for example. But if you use Facebook properly, it is a fantastic way of keeping in touch with people from your past who you wouldn't have the opportunity to normally.
A perfect example earlier on in the week was a guy called Anthony Bealing (who I went to High School with and did drumming lessons with). He posted on Facebook that he was going to be playing the drums at Wembley Stadium during the FA Cup final. He is part of an organisation called 'Pandemonium Drummers', who also played at the London 2012 Olympic opening ceremony. I thought he would make a really interesting interview for the Breakfast Show, so I sent him a message and set it up.
I found out whilst doing some research before our chat that they had made Stephen Sutton (the 19 year old who raised over 3 million pounds for Cancer Research, and sadly recently lost his fight against cancer), an honorary Pandemonium Drummer, as one of the things on his bucket list was to drum in front of lots of people, so Stephen joined them playing drums at the UEFA Champions League Final last year. Anthony had met him, and said he was a really lovely chap.
You can also use Facebook to help other people connect. A girl I went to Primary School with, Lauren Rich is a singer, and said on Facebook a year or so ago that she was looking for a drummer. I thought of Anthony, and they have been gigging and recording together ever since!
Quiz night was fun last week, Karen's Aunt and cousins were over from the UK, and they are really into quizzing, so all came along to the Hogan Stand. It's always nice when people bring their family along as part of their holiday, and Karen's family were lovely.
The money round pot is building up too. It's over €350 at the moment, which will be great for a small team to walk away with one evening. It is going to happen…
On Friday night PJ and I were invited to the Puente Romano World Vision Gala. What a fabulous evening with delicious food, and great entertainment.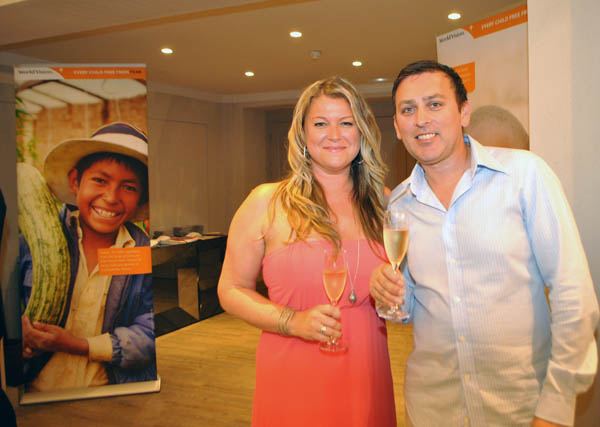 Before we went in to dinner we were treated to a selection of gastronomic delights prepared by the Costa del Sol's most famous Michelin star chef, Dani Garcia. There were also plenty of staff walking around with trays of Champagne, ready to hand you another glass as soon as you'd finished your last!
The Salon de Andalucia was beautifully decorated as usual, and we had a lovely table for two with a great view of the stage. Throughout dinner, Peet Rothwell was singing the songs of Michael Buble. He's a great showman, with a fab voice, and really does sound like Michael Buble!
The four course dinner was lovely, our favourite was the second course of Red Mullet Fillet with Black Venetian Risotto & Saffron Emulsion. In fact the third course of Beef Tenderloin with Cauliflower Mousse, Broccoli & Gnocchi was also to die for!
After dinner, Alison Limerick came on stage, who I had interviewed for the Breakfast Show the week before. She had a big dance hit in the 90's called 'Where Love Lives', which became a club classic. Alison still has an amazing voice, and you can really tell she has a dance background too. Everyone got on the dance floor for her big hit. It was such a great atmosphere!
Well done to John Thomson and the team at Puente Romano. The only slightly annoying thing about the evening was how close we came to winning the top raffle prize…we were one number away from winning the diamond earrings – gutted!
My friend Hazel came over from London to stay with us for the weekend. I met her in Naxos in Greece in 1999. She moved to New Zealand for 10 years after that, and I went to stay with her in Auckland for a weekend during my big 2000/2001 adventure. Hazel came to stay with me in Spain a few years ago when I was living in Guadalmina. But it made such a difference being in San Pedro, as we could walk everywhere!
On Saturday we went to Alcampo in La Canada to meet up with my Mum and Dad, and make a start on shopping for their party which is now this weekend. Hazel really enjoyed walking round the supermarket, as she saw loads of products that she used to buy in New Zealand, and missed in London.
Hazel, PJ and I stopped in Puerto Banus on the way back, and had lunch on the beach at Los Espigones (washed down by a couple of jugs of Sangria) It's a lovely place for lunch, right on the beach between Ocean Club and La Sala by the Sea.
PJ left us to go and watch the football in Portside (a great bar in the centre of Puerto Banus, opposite Linekers and part of the same group) We joined him there a bit later and had a stroll along the front, stopping at Black & White for some cocktails and snacks.
We walked back along the beach towards home, and stopped (again) at Largo's, as PJ wanted to watch (another) football match! This time it was the Champions League Final between the two Madris teams, Real Madrid and Atletico Madrid (La Liga Champions). There was great atmosphere in Largo's. So nice to see passionate football fans having a good time (and a few drinks) without a hint of trouble.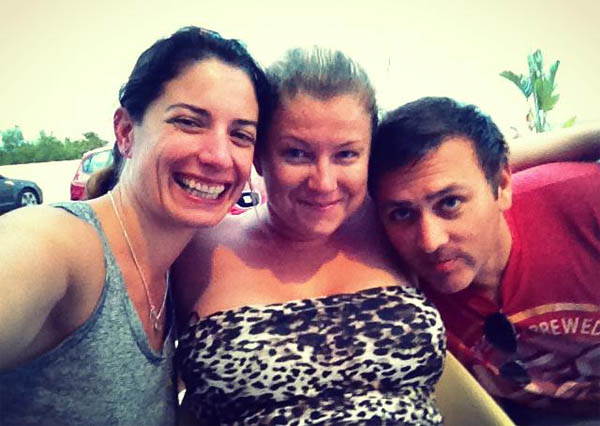 On Sunday, Hazel wanted to see San Pedro town, so Selina & Steve managed to join us for a spot of lunch at everyone's favourite Spanish restaurant, El Comercio. They do the best berenjenas con miel (fried aubergines with honey) ever!
We had a drink (or two) in El Rincon de la Sala, and also at Trattoria L'Impronta…just to give her a well-rounded picture of the bars and restaurants available in San Pedro you understand.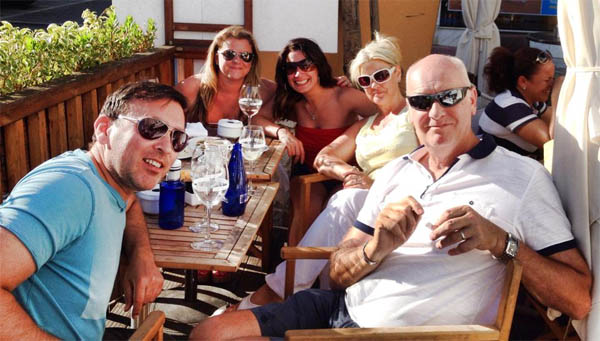 In fact it really did make us realise that although we crammed a lot in during her visit, we didn't do anything out of the ordinary, or 'extra special' (no offence Hazel,) we just showed her what we do at the weekend here in San Pedro, Marbella. We are truly thankful for living in such a beautiful place…