Hannah Week 14
Through my job working on the radio in Marbella (Talk Radio Europe), I get to speak to some really interesting people. Last week was no exception! For the Book Show I interviewed bestselling American author Mona Simpson. Her novel 'Anywhere but Here' was made into a film starring Susan Sarandon and Natalie Portman.
We mainly talked about her books and her writing process; she often writes about family life and relationships. During the interview I was determined to mention a few really interesting parts of her own family life (even though the publisher told me not too). Her ex-husband, Richard Appel was a writer on The Simpsons, and he named Homer's mother after her. She is also the sister of the late Apple co-founder Steve Jobs, whom she said was a great brother who she misses very much.
Most of the people I've interviewed over the years are on the other end of a telephone line. So it's great when interesting people come into the studio so we can do the interview face to face. During the week I had the pleasure of chatting to two young medal winning rhythmic gymnasts; 13 year old Asha (who's been on my show before), and 9 year old Lily (on her radio debut).
It's lovely to see kids with so much confidence. Neither of them were nervous about being on the radio, and happily answered my questions about their gymnastics careers so far. Asha trains for four hours every day of the week, and Lily trains for two. Both of them were so passionate about their sport, and had the medals to show for it! They are off to Granada soon for the National Championships. Good luck girls!
A popular place on the beach to have a spot of lunch is Guayaba in San Pedro, Marbella. It's run by the owners of El Commercio, so the food and service is great. It's very reasonably priced too. Not wishing to bang on about it (yeah right) but now we live in San Pedro, it's just a short walk away!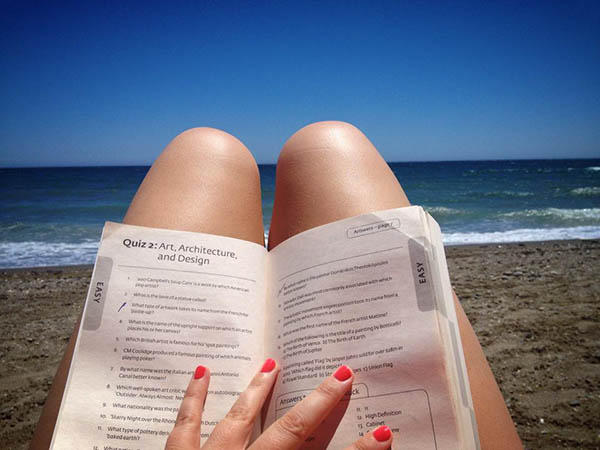 It only opens from June to September, so on Wednesday afternoon I thought I'd go and check it out. It was my first time lying in the sun on the beach this year. Although I did take my quiz book, so I could do a bit of work too.
Talking of quiz night, it was busy with a lot of tourists this week. There was also a team of local teachers who did incredibly well, getting only about 6 questions wrong out of the whole quiz! The money round was also won, with a team of five taking home just over €80 each. Not bad for a night out.
Puerto Banus was very busy as it was the Marbella Luxury Weekend. There was a catwalk on the water, and the models did well not to fall off! A group of us from TRE and our partners, went to the wine tasting event on Friday night, organised by Butler Magazine and Spain's first Master of Wine, Pancho Campo, who has a weekly show on Talk Radio Europe.
It was the first wine tasting I've done outside, and what a lovely setting it was in Puerto Banus marina, right by all the luxury yachts. There were some lovely wines for us to try. I especially liked the marketing for a range of wines that Freixenet had produced. It was a 'Love' range of whites, rosés and reds.
Each bottle had a different name with a pretty picture on the label. There was Summer Love (a crispy white), Crazy Love (a fruity rose), First Love (a young red), and Mother's Love (a Crianza)
After we'd tasted enough wine (we were actually quite sensible), we went to The Grill House Restaurant. They had tempted us with their free mini burgers at the wine tasting, so we decided to try the restaurant out for real.
Well, as long as you're a meat lover, you'll love this place. Many people opted for a burger, and said they were amazing. PJ had the ribs; the kind where the meat just falls off the bone, and I had something very different to what I'd normally have, the belly pork. I made the right choice, as it was cooked beautifully and was oozing with flavour.
We managed to make Saturday quite a relaxing day, even though we got quite a lot done. About a month ago we bought a pool (a lot bigger than the paddle pool I was thinking of in my head) and never got round to filling it with water as we needed to get a few accessories for it.
Well Friday night we left the car near Puerto Banus, as it's a lovely walk along the beach front to get it. We went into El Corte Ingles and bought everything we needed for the pool.
We put it in the front garden over the driveway, and used both of the hoses that we have in the front, meaning it was full in under an hour. Well I climbed in it straight away! The water was a bit nippy, being that it had come straight from a hose, but as the sun was beaming down, it was surprisingly refreshing.
One of the interns from BetVictor was leaving, and bought PJ a bottle of Moet. So we decided to drink it whilst sitting in our new pool! We know how to live…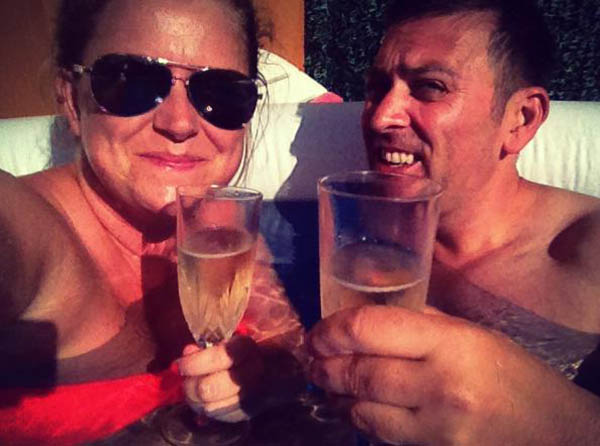 On Sunday, PJ was part of the panel on Selina's Sunday Shindig on TRE, along with Peter Bennett and Julie Hall. It was great sitting at home chilling out on the balcony with the cat, whilst listening to PJ and friends on the radio.
They all sounded great, and Selina had some fab ideas for generating topics. They all had to come prepared with a topic for discussion (PJ's was the new driving laws in Spain) and also had to send something to Room 101 (or Studio 101) PJ chose the bane of his life – Ants!
Everyone who took part in the radio show and their partners, plus Bill, Karen, and my parents all went to lunch at the tapas place that we've been to a few times before in San Pedro, La Cocina de Santos. We ordered a big selection of dishes from the menu, and some of us had a few drinks, yet it only cost €20 per person, which included a tip!
Really lovely authentic Spanish food, a fab atmosphere, and all for a great price. It was the perfect way to round off a busy week.