Hannah Week 15
Blimey! What a busy couple of weeks it's been. Hasn't the World Cup been great viewing? (Aside from the fact that both England and Spain were out a bit too quickly).
Before this was the case, I bought face paint, bracelets, flags and T-shirts for both Spain and England, and I think we only wore them out once each. Shame. A group of us excitedly got together at Largo's on San Pedro paseo to watch the Spain v Holland game. We wanted to go to a Spanish bar, as we figured the atmosphere would be better. We hadn't accounted for the fact that Spain might lose – especially not so dramatically as 5-1! We looked the part anyway.
On Sunday a few weeks back, a big group of us went to Hawai Kai (also on San Pedro paseo) to celebrate our freinds Debbie and Peter's birthdays'. Plus it was Father's Day in the UK, so wanted to go for lunch with my Dad too, as it was his first Father's Day in Spain.
We decided that from now on, we'll celebrate the Spanish Father and Mother's Day, seeing as they live in Spain now (still feels weird…in a good way of course)
The food at Hawai Kai was great. They did a superb job looking after us all, as we can get a bit rowdy after a few dozen jugs of Sangria (well who doesn't?) I used to go to Hawai Kai a few years back for drinks, and I don't remember them doing much food. So I went to check the menu a few days before the party, just to make sure. Well, the menu was extensive! They had a huge variety of salads, fish, meat, pastas, paellas. There really was something for everyone. Nice for my Mum to have more of a choice too, as she's a vegan.
We were invited to Neli G's Restaurant in Benavista who were doing a 'Tasting Menu' for the launch of their new extended area. The place looks fab and would be great for parties. I love the décor in there too. Lisa and Neville have really made it a nice, welcoming place to go. It helps that the food is so nice too of course! We were treated to a really wonderful selection of what is on their menu.
The waitresses were coming round constantly with trays of food, and also had jugs of Pimms to keep topping up our glasses with. We were truly spoilt. After we'd had a selection of savoury snacks, we were treated to sample some of their delicious desserts. Well, Karen was in heaven! Their chocolate brownies had a coconut flavour to them (yum), and they brought round mini pavlovas which were incredible. I don't think I've ever been to one of these launch events before and not have to eat afterwards. We were well and truly fed, great job Neli G'…we'll definitely be back!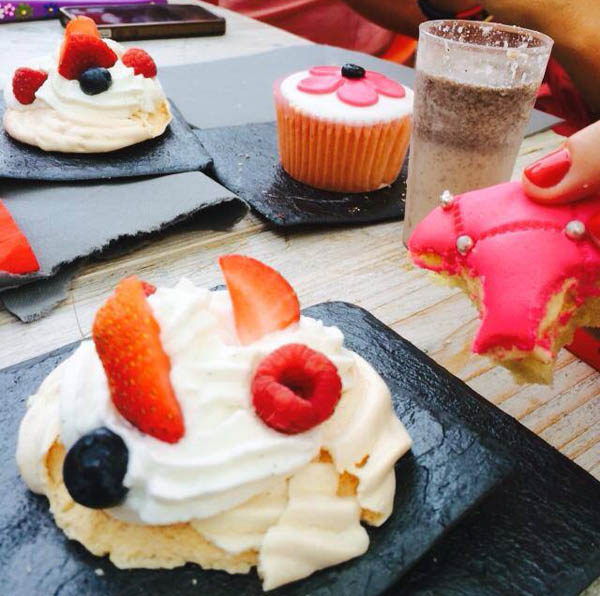 To watch England v Uruguay, we went to the Hogan Stand. The match was on a Thursday at 9pm, so I decided it would be pointless to do the quiz that week. PJ and I were all kitted out in our England gear, and were really hoping that England were going to play better than Spain. Well, I think they did play better, but sadly not as well as Uruguay, who beat us 2-1. Rooney scoring that one goal created such a great atmosphere in the pub. What a shame it's all over for England. Oh well, we still have Wimbledon.
PJ and I decided to celebrate San Juan this year and take a walk along San Pedro paseo, which was packed. San Juan takes place every year on the 23rd June, the longest day of the year; Summer Solstice. It is the only day of the year in Spain where you are allowed to have BBQs and bonfires on the beach. It is tradition that at midnight you walk backwards into the sea to cleanse you of your sins. We left at about 11.40pm as we decided we didn't have any sins to cleanse (and we had to get up early for work). But it was a fantastic atmosphere, and a real mix of young people, families, and older groups of friends, all making their way to them beach armed with chairs, rugs, and wine.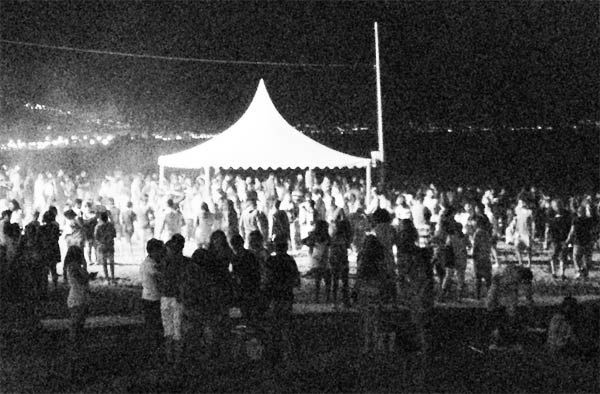 At Talk Radio Europe we had a student called Harry who worked with us for a week. He was from Sotogrande International School, which is a fantastic school down towards Gibraltar. Harry's parents own Khan's Indian Restaurant on the frontline Puerto Banus, and have had it in the family for over 30 years! Harry's mum Christine invited TRE staff to go there for a meal, and my goodness did she look after us. The food just kept on coming! She gave us a selection of starters followed by a selection of main courses, rice and naan bread. Their Peshwari Naan was amazing.
Well, it all was. Steph and I were impressed with the starters and how non-greasy they were. Will definitely be going back there too! Afterwards we had a walk around Plaza Antonio Banderas, as during the summer months there are lots of tents selling artisan products, clothes, and jewellery. I bought a selection of authentic Turkish Delight to take home for PJ (his favourite).
Last Saturday PJ and I hosted a BBQ to say goodbye to two friends who were leaving Spain. Julie went back to the UK the following day, and Kristyn leaves for Thailand next week. Everyone we invited came to the party, which was nice. I think there were about 40 people at one point! Everyone seemed to have a good time, and PJ even set my laptop up on a chair outside so people could watch the football matches! I wish both Julie and Kristyn huge success in their next adventures, and hope they come back to Spain one day soon.
Signing off to crack on with questions for this weeks quiz…It will be Kristyn's last one.