Out and About With Hannah
Hannah Murray is the breakfast presenter on Talk Radio Europe, and of course my girlfriend. I thought it was a nice idea that she has her own weekly column because she gets up to some interesting things during the week.
Hannah's Blog – Entry 1 – From Friday 21st February – Sunday 2nd March
As some of you may know I had an unexpected operation within the first week of 2014. Not a great start to the year really! I had to take a fair amount of time off work, something which I haven't really done much of in my professional life, as I don't get sick! When I do it only tends to last a couple of days (frantically looks around for some wood to touch)
When being made to lie down, take it easy, and really not do much at all, it made me realise how full my life normally is; Full with radio things, quizzes, and social occasions with friends. Having a break from it all was very weird, and very hard!
I thought it would be worth jotting some of it down in a kind of 'blog', sharing some of the funny stories from TRE, what it's like running a quiz for more than five years, and recommending some of the coast's lovely restaurants. Just so you know, if you don't like food or restaurants, it's probably best not going any further. For the rest of you, enjoy…
It was decided that as Selina MacKenzie's Mum was here on holiday, we would all get together at one of our favourite Spanish eateries, 'El Comercio' in the centre of San Pedro. (Selina hosts the Lifestyles Show on TRE). The food at El Comercio is fantastic, the place is always busy, and most importantly they do the best 'berenjenas con miel' (fried aubergines with honey). Unfortunately though, the flu bug was in full force and had wiped out 3 of the group, so PJ (my partner), Steve (Selina's husband) and friend, Debbie, (along with her husband Peter), weren't well enough to join us.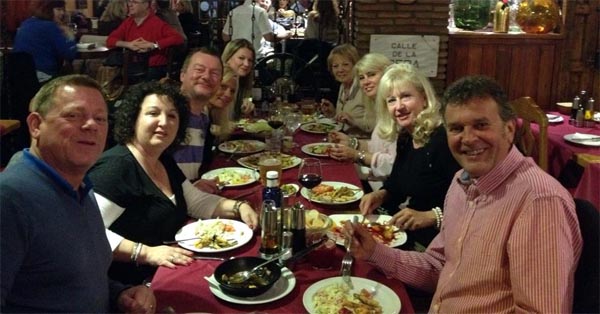 That didn't stop us from having a great night though. I enjoyed chatting to Bill's old pal from the music industry, Steve Jenkins. (Bill is our Program Controller and a Presenter at TRE). Steve was MD of Jive Records and worked with artists including Britney Spears, The Backstreet Boys, R. Kelly, and Justin Timberlake. It was great hearing stories of Britney Spears' original audition and how it was all her idea that she dressed in a school uniform for the 'Baby one more Time' video.
Steve's wife Susan Gregory-Jenkins was a professional ballet dancer who trained at the Royal Ballet School and now teaches her own fitness class called 'The Gregory Technique' at Harpers Fitness in London. Susan was explaining that Harpers Fitness are one of the few sports centres that embrace professional dancers and understand that their qualifications are higher than a lot of the fitness industry qualifications that anyone can do online from home. A really nice couple who I'm sure we'll see more of.
That weekend it was beautiful weather. PJ and I went to Agro Jardin (a local garden centre) and bought quite a big selection of colourful flowers and herbs for our new garden. We moved in November and found a lovely townhouse in San Pedro with lots of outside space that now needs to be filled with beautiful flowers. We then got very domesticated and bought two pairs of gardening gloves, some secateurs, a rake, a trowel, and some shears!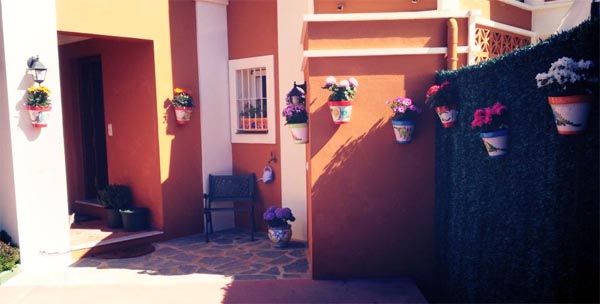 Last week I also met baby Grace, who was just a few weeks old. Her Daddy, Rob Humphries, is my producer and co-presenter on the Breakfast Show (who I have missed these past few weeks while he's been changing nappies). Grace was adorable, so tiny, and pretty in pink. Much to Charlotte's delight (Rob's partner) Grace slept the whole time we were together, which was a good couple of hours! She was quite happy to be passed from one cooing girl to the next, and made herself comfortable on us all.
At TRE, as well as hosting the Breakfast Show live from 8am till 10am, I also put together a Book Show, which goes out every Thursday from 7pm, and is repeated on Sunday's at 9am. I record interviews with various authors throughout the week, and last week I interviewed the award-winning screenwriter and author William Nicholson, who among other things, wrote the films Gladiator, Les Miserables, and MANDELA: Long Walk to Freedom. What an interesting guy.
I'm getting into the routine of trying to have a guest on the Breakfast Show each morning. I used to host the magazine show, and was used to interviewing 6-8 guests a day! But presenting the Breakfast Show is a very different thing. On Thursday I interviewed Rose Lock, who is running the Barcelona Marathon in a week's time with a few friends to raise money for a selection of charities. Most of them have never run such a long distance before and I really admire them for taking on the challenge. I talked about running the Malaga marathon a few years back, but realised that I didn't really like running, so it probably wasn't the best idea.
I host a weekly quiz at The Hogan Stand Irish Bar and Restaurant in San Pedro every Thursday from 8pm, which I've been doing for over five years now, and I sometimes feel I'm running out of questions! I know that sounds ridiculous but there is only so much that the average person knows about art (for example). Once you've asked the basic questions on Picasso, Dali, Monet, Manet, Rembrandt, Van Gogh, Munch, Renoir, Cezanne, Degas, Turner, and Botticelli, it's amazing how creative you have to become with new questions! After the quiz there is a 'money round' where people pay an extra Euro that goes into a separate pot. I have six questions on a Trivial Pursuit card. If a team get all six questions correct, then they go home with the money. If not, it rolls over to the following week.
Well last Thursday the money pot was won, after having been 'rolled over' for many weeks. The team of three managed to walk away with €430 (about €140 each) It was thanks to Michelle for being the only person in the room who knew the Philip Pullman question. I'm sure she will now always hold a special place for him in her heart.
Every Friday on the Breakfast Show, I do a feature called 'What do I do?' I interview someone who works in a famous place or tourist attraction anywhere around the world. I will tell the listeners their name, but not where they are. The listeners then have to call in and guess the location, after I ask questions like 'What's the weather like where you are?' 'What are the views like?' etc. Plus my guest will always have the right accent, hinting where they come from. Last Friday, I spoke to a guy called Liam who runs The Rock Tour. They take people on various trips around Ayres Rock in Australia. It was fascinating having him on the show, and brought back great memories of my trip there in 2001.
As this blog continues throughout the weeks and months (hopefully!) you will notice there is a bit of a theme…FOOD! I do love my food. Thankfully we really are spoilt for choice on the Costa del Sol. I could go to a different restaurant every night of the week right on my doorstep if I wanted to. But I try and save it for the weekends if I can!
On Friday night a group of us went out for Bill's birthday dinner. He is a big lover of Thai food, having lived in Thailand for many years. That was fine by us, so off we went to 'Top Thai' in Centro Commercial, Nueva Andalucia. Well, top Thai it really was…the food was incredible. I had the Penang curry, and PJ had his favourite, Massaman, after a selection of starters. We all loved it, and all decided we would go back again very soon. In fact Michelle and her daughter Claudia went back the following night!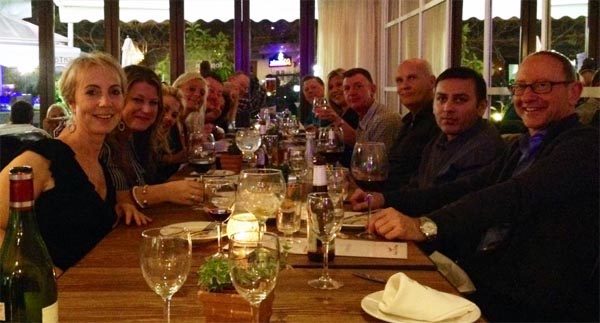 I think that love of food is one of the things that bond me and my friends together. I know that going out for dinner is seen as a social thing, and is often more about the company than the food. But with us the food is equally important, if not more so than the company (no offense guys!) Whilst eating at a restaurant, we often find ourselves discussing where we are going to eat next.
One of the main reasons for moving to Spain, and enjoying living here, is the weather. When the sun comes out it kind of makes everything OK. Nothing matters as much when the sun is out. When the sun is not out though, that is a different story. If you want to leave the house and actually venture out for the day, (other than going straight to a restaurant), you go to La Canada. The problem is, so does everyone else.
La Canada is a huge shopping complex in Marbella, with a wide selection of clothes shops, things for house and garden, plus a big restaurant section, with some great places to eat including 'La Pappardella', a fabulous Italian restaurant with friendly staff and great pizzas, and a new sushi place we were dying to try called 'The Sushi Bar'.
We had just sat down and I heard someone call my name. It was Michelle. She and Claudia had the same idea! So the four of us enjoyed the most delicious plate of sushi with some edamame beans on the side.
You know I mentioned that often, whilst we are dining out with friends, we are planning more trips to other restaurants? Well on Friday night, at Top Thai, our friend David Tabizel recommended a Spanish place in San Pedro called Panorama. He said the Gambas Pil-Pil (Prawns in garlic) were some of the best he'd tasted. He also said the meat on the stone for two people is outstanding. You can cook it in front of you for as long as you like, and it is just €22 for two! Of course we had to try it. So Selina and Steve joined us for an impromptu Sunday lunch, and David was quite right on all accounts. Nice that it is a short walk from our house too!
Well that concludes lasts weeks adventures…..
Hannah x