Week Three Hannahs Blog
Last week I did something that I haven't done in about 18 years; I jumped up and down on a trampoline! I actually surprised myself with how much I could still do. I was a little bit nervous at first, but when the kids had a go they seem to have no fear at all which was so lovely to see.
I wonder what age it is when we start to develop a fear of hurting ourselves? For me, it's been a gradual thing over the last few years. It must be so freeing to have no fears at all.
I interviewed a girl called Natasha Rocca Devine for my Book Show earlier in the week. What a delight. Her mum was a former Miss Ireland, her dad is ex Ireland and Arsenal footballer John Devine, and her step-dad is Van Morrison.
Natasha had just published her first novel, 'Influence', all about the celebrity world, and one girl's dream of becoming famous. She had some great stories to tell about growing up in the entertainment industry; going on tour with her step dad and meeting everyone from Tom Hanks to James Brown, who she said taught her to dance! Influence is her first book in a trilogy, and she asked me to read it and let her know what I think. As soon as it arrives, I'll get right on it!
On Wednesday, some of the girls from TRE went out for dinner at Gio's in Nueva Andalucia. We were all very impressed with the food. Between us, we had a real mixture of food Gambas Pil-Pil to Lasagne and even Liver. It was lovely and we all said that we would definitely go back. Efficient, friendly service too, which always helps.
We've all been rather busy at the radio station recently, as coming up very soon (this Friday 21st March) is our yearly telethon, where we spend the day auctioning items live on the radio, raising as much money as we can for Cudeca Cancer Care Hospice. Cudeca is a non-profit and non-governmental organisation that relies on public donations. The staff at Cudeca do such an incredible job, not only caring for the people who need them, but are also a huge support for their families.
I know people who have needed the services of Cudeca, and have also interviewed people whose family members have needed them, and they all say what a wonderful organisation it is, and cannot imagine how the community would possibly cope without them.
We have some fantastic items this year that people have kindly donated, including golf green fees, restaurant meals, beauty packages, jewellery, hotel stays, interior design packages, website design, the list goes on! Do check out the website www.tretelethon.com as bidding has already started, with many items closing at midnight on Thursday.
Over the weekend there were big St. Patrick's Day celebrations taking place in Marbella. I had the organiser on the breakfast show on Thursday, and he said it was going to be great craic! So, Karen, Selina and I went along to check it out on Saturday. Many of the local Irish pubs had set up stalls and bars, offering Irish food and drink. I wonder how much Guinness was consumed over the whole weekend? We had some delicious chowder from The Playwright, and a couple of shandy's from The Hogan Stand, and found a table so we could watch and listen to the entertainment.
Throughout the weekend there was a mixture of both Irish and international entertainers. While we were there we saw the Flamenco dancers, who were beautiful. They must have been incredibly hot in their black dresses though, as temperatures reached over 20 degrees!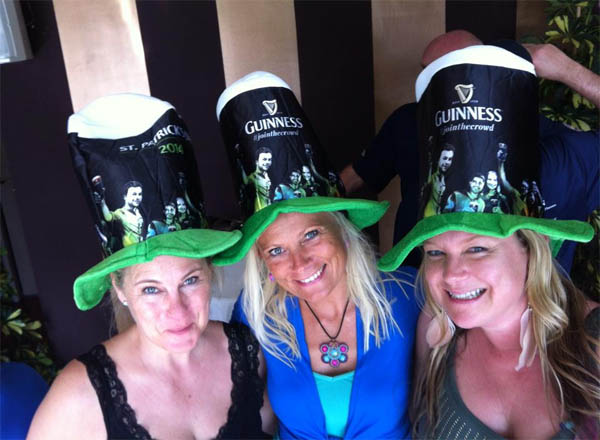 Whilst we had a stroll around Marbella, our other halves were playing golf. They have a team in the 'La Sala Golf Tournament', getting together on a regular basis, trying out different courses on the coast. We always meet them in La Sala for drinks and snacks afterwards, and you never know, one day they just might win a prize!
We went out that evening for Bruce's birthday, meeting at Cranberries Bar in San Pedro for drinks. They make the most wonderful blackberry mojitos, something I had not tried before, but will definitely be going back for.
We dined at Bruce's favourite Indian Restaurant (and thankfully mine too) Sitar, which was pretty much next door. I had my usual, Chicken Tikka Masala with mushroom rice and peshwari naan. Delicious.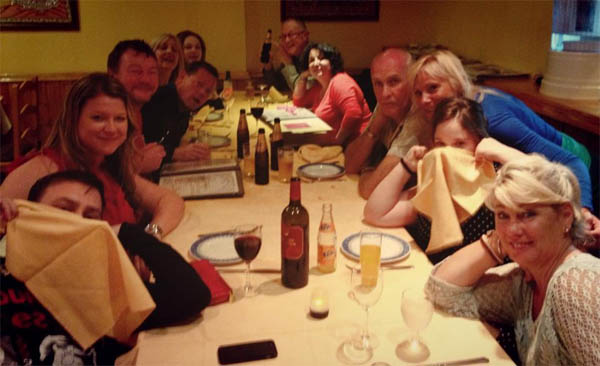 On Sunday, PJ and I did something that we've been wanted to do since we moved to San Pedro. We walked from our house down to the beachfront, along to one of my favourite places Kala Kalua. It's a restaurant that is literally on the beach. If you're lucky enough to get a frontline table, then you are just a few meters away from the sea.
It is truly paradise, and I count my blessings every time I go there. It was made even more special this time, as we had walked there from our house! The food is always excellent. They have an extensive menu of fish, meat, and salads, and the best almond tart ever!