Hannah Week 5
Earlier this week I did a speech for Women In Business Spain (WIBS). Instead of talking about the radio, I thought it might be a bit of fun to talk about quizzing! Not just my weekly quiz at the Hogan Stand in Marbella, but also a bit about how and why I love quizzing so much.
I explained how my parents had a lot to do with it, and games we played in the car during my childhood holidays spent driving around Europe.
I also talked about my Dad being a puzzle compiler for various magazines and newspapers in the UK, and his appearance on Britain's Brightest, as one of the first contestants on the BBC1 Saturday night show hosted by Clare Balding. What a thrill that was, not only watching him on TV, but seeing complete strangers showing their support for him on Twitter #gobernie!
WIBS is well established in Marbella and is a great opportunity to meet other business women on the Costa del Sol and do a bit of networking.
At Talk Radio Europe we celebrated our five year anniversary with a trip to Umami in San Pedro, Marbella for some delicious food. It's always lovely when we get together, as we all get on very well! Sometimes company 'get-togethers' can be a bit of a drag, but thankfully it's not for us as many of us socialize outside of work too.
After we'd eaten, some of my colleagues came over to Hogan Stand to participate in my quiz, which was great, as some of them hadn't been before.
The place was packed, creating a great atmosphere (always good when it's people's first time!)
Some of you may have heard of a restaurant called Roman Oasis, which is near the Roman Baths in Manilva (about 20 minutes west of Marbella). It's run by Paul Hickling who was a very close friend of the late iconic chef, Keith Floyd. In fact Keith spent a lot of time there, both as a guest, but also doing some cooking classes, which were well attended by the people of Marbella and beyond.
There is a great tribute wall to him at the restaurant, and if you haven't been, I can highly recommend it. Paul's partner Kaat (who's from Belgium) runs another restaurant full-time, which is on the sea front in Sabinillas. She often does special theme nights. We've been there for a Thai Night and a Lobster Night, both of which were fantastic food and great value.
Last Friday they had a Greek Night. PJ and I LOVE Greek food, so we rounded up the troops and off we went down the coast.
First of all came the dips; Tsatziki, Humous, and Taramasalata, along with warm pita bread strips. We foolishly ordered more pita bread, not knowing that there was so much more food to come! A huge plate of starters soon followed ofs fried calamari, spicy meatballs, Greek mushrooms, filo parcels filled with feta cheese and spinach and a delicious Greek salad.
We were nicely full at this point, so asked to wait a while before the main course arrived! When it did I was very happy to see it was moussaka (one of my favourites) and another huge platter containing chicken souvlaki and lamb chops.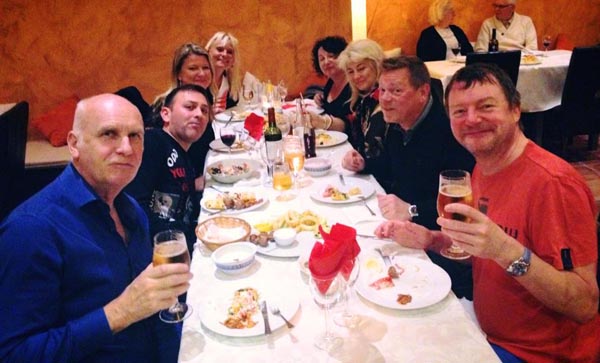 The week was rounded off perfectly as Saturday was the day my parents arrive…FOREVER! They have sold up in the UK and moved to Spain for good! You can imagine how excited I am. They are staying with us for a few days, before moving into their new home this week (slightly inland from Marbella). They timed their arrival perfectly, just in time for us to relax and catch up on Saturday, then to go out for lunch on Sunday for Mother's Day.
We walked up to our nearest restaurant, Da Bruno's. My Mum is a vegan (which I have to admit is a little bit of a challenge sometimes when trying to pick a restaurant in Marbella), but thankfully there was a good selection of vegan and vegetarian dishes, with Mum opting for a risotto with white and green asparagus, which she said was delicious.
I had a fillet of cod with honey sesame dressing (one of my favourites). My Dad had grilled chicken with parmesan and rocket, while PJ had a spicy salami pizza.
It was so lovely having Mum and Dad here for Mother's Day, and even more lovely knowing that this was the first of many.