Hannah Week 6
Another busy week in Marbella as we had my parents staying with us. My Mum is a vegan so we ate very healthily! I actually made something that I've never done before, which was inspired by some of the lovely local Marbella Thai restaurants; vegetable rice served in half a pineapple. Obviously you could add chicken or prawns, but I used broccoli, red pepper, peas, onion and garlic, as well as fresh coriander and diced pineapple.
I found a recipe in a vegan cookbook that I bought Mum for Christmas. It included tofu (which I left out) and replaced with the broccoli. There were various spices in it too which gave the dish an amazing flavour. I know one is supposed to be modest about their own cooking but it really was the best thing I've ever made in the kitchen! Definitely one to do again.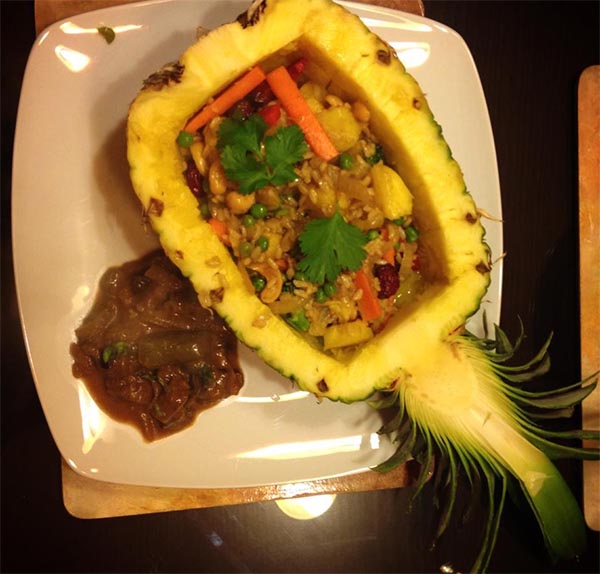 On Friday we went out for dinner in Benahavis, which is well known for having some great restaurants. We went to one of it's most famous establishments Los Abanicos; a large restaurant that has been there for many years, and is popular with local residents and tourists alike (about a 20 minute drive inland from Marbella).
There was quite a large table, as Steve had all three kids over staying with him and Selina for the weekend, so it was really nice to get the gang together.
It definitely wasn't a place for my Mother! Like many traditional Spanish restaurants it is very heavy on the meat dishes, which made a nice change for PJ and I. One of it's much loved dishes, other than the steak (which always seems to be cooked to perfection) is the suckling pig, complete with trotters and all! A few of our party had that and said it was amazing.
Over the weekend I went with mum and dad up to their new home in the campo about 25 minutes inland of Marbella. It really is beautiful, and I know they're going to be really happy there. The outside area is truly breathtaking with so many areas to sit, whether in the shade or in the sun.
There is a large dining area outside (strategically placed next to two large BBQ's) and a beautiful pool area, making me shout with glee "My parents have a pool!" Very exciting!
Sunday ended off our busy week perfectly. One of the reasons PJ and I moved to San Pedro was so we could walk into town to eat and drink, with a large choice of options and cuisines. For the first time since we moved in (which was November!) we walked into town and found a lovely spot in the main pedestrian street. It was called Restaurante Alcantara, and had been there since the 1980's. We had some wine and some beautifully flavoured Gambas pil-pil (prawns sizzling in garlic and oil). We think you can always judge a restaurants food by the quality of it's gambas pil-pil!
A bit later we wandered down to El Rincon de la Sala. We were looked after by a fabulous waitress called Alicia. Not only was she great with us but we were watching her with other customers and she was so helpful. She would ask people if they were parked underground, giving them a free parking ticket because they had dined in the restaurant. Now I know that will probably only save people a euro or two, but it will make a huge difference on them returning to a place where the staff were considerate enough to for warn them.
Having spent many years as a waitress myself, I know how easy it is to be nice to your customers, build up a rapport with them, and ultimate get good tips! You would not only have those customers coming back, (and probably tipping you again), but they would tell their friends to go too. It makes perfect business sense. So one of my pet hates is really bad customer service in restaurants and bars. The kind of place that makes you feel like you being in their establishment is a huge inconvenience to them, as they really don't want to be there themselves. These places can be surprisingly common. I think some people could learn a lot from the American's when it comes to customer service. Either that or see how it's done at El Rincon de la Sala!
My friends Jo and Curt (who used to live here and moved back to the UK a few years back) came to join us for a drink or two. We decided to take a stroll down to the Hogan Stand, which was packed as there was a football match on. We sat outside in the restaurant area and had some deep fried brie (one of my favourites) and some of their delicious pate (which they do particularly well).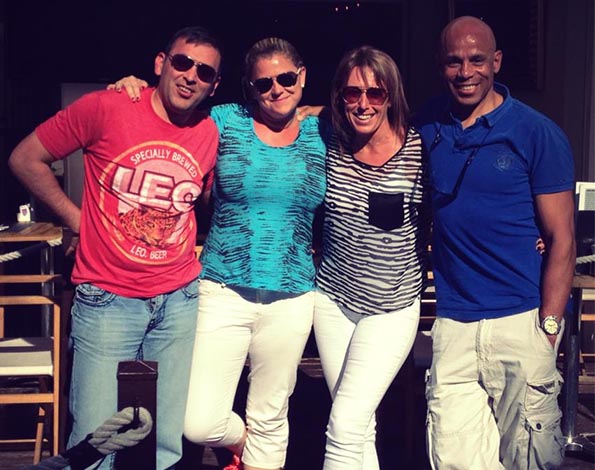 Whilst we're on the subject of good service; Ross, Maggie, Alan and the gang do a great job of making you feel welcome at the Hogan Stand too!
On our way home we popped into Trattoria L'impronta, a beautiful Italian restaurant that I've been dying to try for the last few years since it opened. I've always heard that the food is fantastic quality wise, but a little on the expensive side (which has put me off a bit).
Well we went in to have a glass of wine and check out the menu. We were pleased to see that it's not expensive at all, and there were some delicious sounding dishes on offer. Another one to add to our list of "Must visit soon Restaurants"