Hannah Week 10
On Monday we went back to what has quickly become one of our favourite places to eat, Trattoria L'Impronta, our beautiful local Italian restaurant in San Pedro. PJ had the day off work, so we took our time as they offered us a tasting menu so we could truly get a feel for the place, and the amazing gastronomy on offer. The manager Miguel introduced us to the owner and chef, Francisco, who told us to relax and enjoy!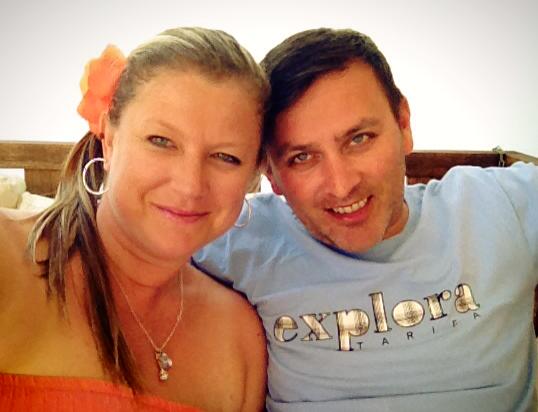 We had a deliciously fresh salad with smoked sardines and Iberian tomato, which Miguel said were a very special type of tomato costing 11-15€ a kilo! Then we had an aubergine parmigiana (sliced aubergine with tomato, mozzarella, and pesto baked in the oven, followed by fresh pasta ravioli with wild mushrooms and natural black truffles from Castilla y Leon (the North of Spain).
Every step of the way Miguel was there to explain each dish, it's ingredients, and where they came from, which was lovely.
For main, they brought out some thinly sliced rump steak cooked in the oven, with the best Bearnaise sauce I've ever tasted, with some French fries on the side. Dessert was a real treat too – a rather large Grand Marnier soufflé four two!
All of this was washed down with a bottle of red Lambrusco, which neither of us had tried before, a slightly fizzy red. It was suprizingly nice and refreshing, and the perfect accompaniment to our culinary journey – not bad for a Monday afternoon! Huge thanks to Miguel and Francisco for making the afternoon so special.
I have been spending a fair amount of time looking after our plants and flowers this week, and have surprised myself on how green fingered I've become. In fact this week, we saw our first red strawberry! PJ allowed me to try the first one. But I have to say, it was a bit taut, and not as sweet as I hoped. Maybe it wasn't quite ripe enough, and we got a bit over excited. Will wait a bit longer for the next one…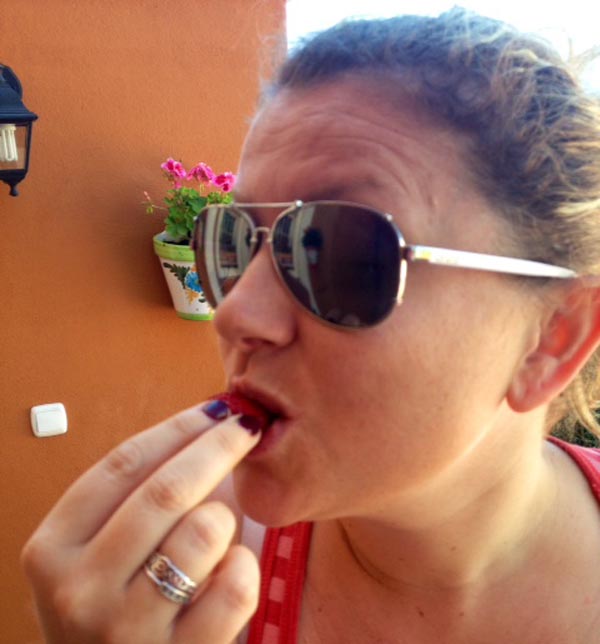 On Friday we walked into San Pedro, Marbella with our friends Selina and Steve. We popped into Cranberry Bar for a couple of drinks. They do an amazing blackberry mojito (which goes down a little bit too easily!) For dinner we went to a bustling Spanish tapas place that PJ and I had discovered last week quite close to TRE.
We had a lovely meal, a selection of various meats, fish and salad. Our favourite way of eating. We ended up in Bar Neo playing darts which was great fun. Us girls gave the guys a real run for their money!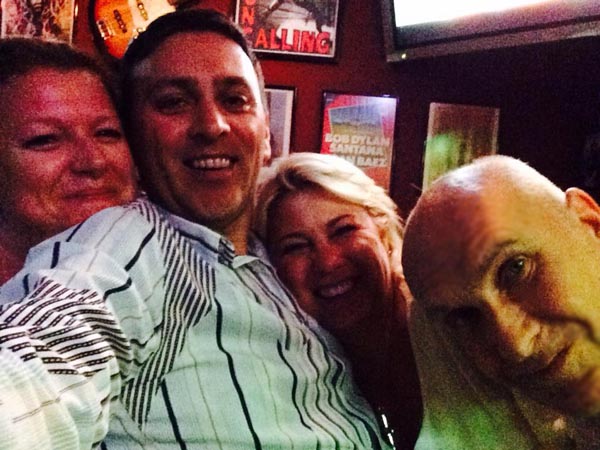 Over the weekend, we went up to Mum and Dad's place near Coin to help them out with some jobs around the garden. We had a BBQ on Saturday, with Mum and Dad very much getting used to (and loving) dining al fresco.
My Dad and PJ tried their hand at cleaning the pool (looking very much like a scene from Desperate Housewives!)
On Sunday we had a lovely lunch in Monda at a place we've all wanted to try, having driven passed it so many times. Café Bar Luna is on the corner of the main street as you drive through the village of Monda. There is an outside terrace opposite the bar, which was the perfect spot for lunch. Luckily for mum their tapas selection was a little more than meat and fish dishes, so she was able to have some berenjenas fritas con miel (fried aubergine with honey) as well as the largest salad ever!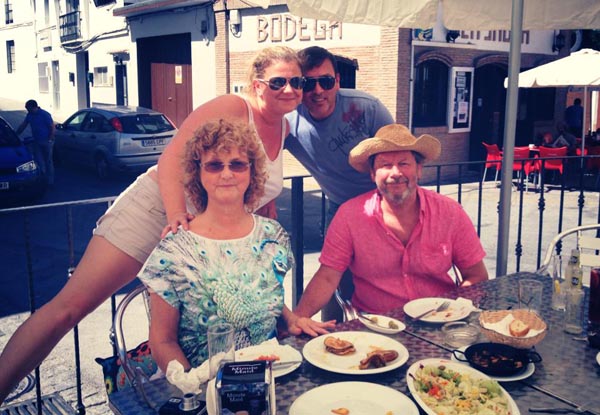 The rest of us shared a gambas pil-pil (prawns in garlic), and the best chicken with curry sauce I've ever had. It's a popular tapas dish in Spain, but this one was particularly good with large, tender pieces of chicken, and a beautiful curry sauce with lots of flavour…and mushrooms (a major selling point for me). It was fantastic value at €43 for the four of us, which included a few drinks each and a mountain of food!