Karma Beach
Karma Beach Marbella is a new Beach Club run by the same lovely people who had Yamas Greek Restaurant in the centre of Marbella. It is located right on the beach at Costabella, which is the turning just after El Rosario, between Marbella and Elviria.
It's a beautiful setting, with white décor and white beach sails. There is an inside area, a large terrace with plenty of shade, and a lounge area with sofas and four poster beds for sunbathing.
When we arrived at about 2.45pm it was pretty busy, with all the tables full on the terrace, so we sat inside with a beautiful view out to sea.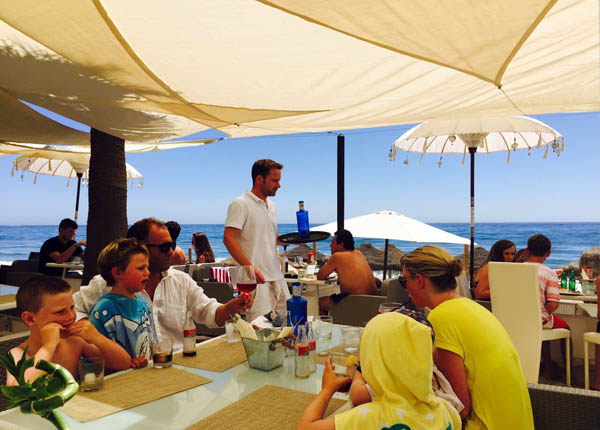 We only planned to have a snack, but we were so impressed by the extensive menu, we decided to order a selection of dishes.
As you would expect, they have lots of the Greek favourites on the menu from snacks like Hummus and Tzatziki, deep fried feta cheese, and stuffed vine leaves as well as main meals like Moussaka, Kleftico, Souvlaki, and of course a traditional Greek salad.
They also have a great selection of Asian Fusion Tapas, like Tender ribs drizzled in lemon honey sauce, Chilli chicken marinated in sweet spicy honey sauce, Won tons, King prawns in sesame toast, and lots more.
There really is a wide choice of food available that also includes pizza, pasta, paella, burgers, wraps, steak, fish, and salads. Undoubtedly, there is something for everyone.
Everything is very reasonably priced too, with most of the snacks and tapas well under €10, and most of the mains around 12-18€.
We shared a Greek salad (the best I've had since Greece in 1999), the stuffed vine leaves, scallops with coconut and ginger zest, and the ribs drizzled in lemon honey sauce (which were gorgeous!)
We were so impressed by the food, and the menu (a lot more we want to try), that we booked a table for the following Saturday for lunch, as well as a couple of beds on the beach too (only €5), as the sea and sand looked so inviting, with not a pebble in site!
We would highly recommend a visit to Karma Beach Club whether for a lazy day in the sun with a great lunch, or maybe for an evening meal seated virtually on the beach.
Directions to Karma Beach Club from Marbella – head along the N340 and as soon as you have passed the exit for El Rosario, take the exit by Costa Bella, go to the roundabout and take the third exit and then just follow along to Calle Frankfurt.
Parking is at a bit of a premium so you will need to park along here or Calle Madrid and take a couple of minute stroll down to Karma Bech Club (well signposted)