Mahiki Beach Coming To Marbella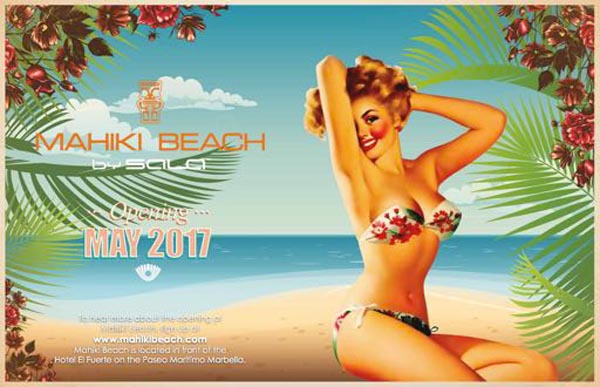 The Sala Group, who own the famous Puerto Banus venue La Sala and the busy beach club Sala by the Sea, are about to bring a taste of Polynesia to Marbella with their brand new venture.
The popular Dover Street (London) venue called Mahiki has always been a celebrity hangout since it first opened its doors back in 2005, attracting not just some of the world's top celebrity clientele like Lady Gaga, Rihanna and Beyonce, but also royals including Prince Harry, Prince William and Kate Middleton.
It has a solid reputation as being a 'must visit' destination for many party goers in London. Now thanks to a special collaboration, Sala Group has now been appointed the licensee to open a Mahiki in Marbella!
There is already a Mahiki in Dubai which opened in 2011 and has quickly become one of the most popular beach venues in the area, located at the beachfront Jumeirah Beach Hotel. Now from this spring, Sala Group is proud to be bringing this happening and trendy beach club experience to the shores of Marbella, the very first one to open in the whole of Spain.
The menu at the new Mahiki Beach Club in Marbella will feature authentic Spanish style cuisine alongside the dishes we have all grown to love from the La Sala menu, plus of course the tropical Polynesian and tiki grill menu of Mahiki.
Sala Group's chairman Ian Radford said "We're so excited for being chosen as the creators of the first Mahiki Beach in Spain. Our aim for Mahiki Marbella, is for this beach restaurant and lounge to be all about fun atmosphere and creative details that go into every drink, dance and dish that they will serve"
Here at Celebrities in Marbella we are super excited about this new beach venue, Mahiki Beach, and being lovers of fine cuisine, a great atmosphere and lazing in the sun, we literally cannot wait for the launch.
As soon as we get news of the official opening we will bring you the information but in the meantime, when you are planning your itinerary for your Marbella trip, or your summer dining, make sure you pencil in a trip to Sala Group's Mahiki Beach!