Neli G's
We were invited to attend the special 'tasting' launch for a café bar located in Benavista (between Estepona and San Pedro) called Neli G's. It has been open for some time and although we ourselves had never managed to get there, many of our friends who live that way are regular patrons and have always spoken very highly of it.
Neli G's is owned by Lisa and Neville Gaffney. Both are active members of the team with Neville the head chef and Lisa the front of house and brains behind the concept.
Recently they acquired the shop next door and literally within a couple of days they had knocked through to extend the original café.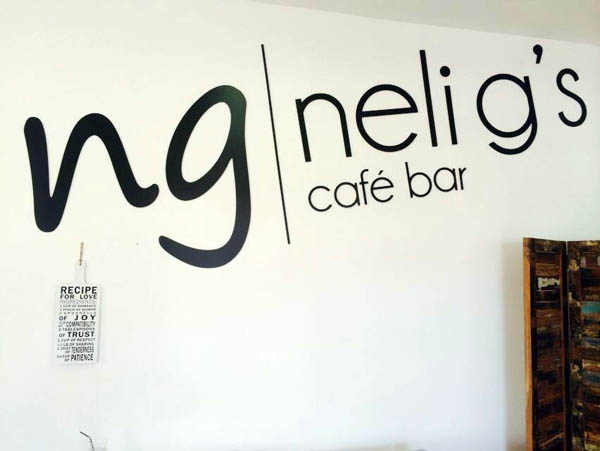 This launch was all about introducing their new evening menu and the idea was fabulous. From the moment we arrived their friendly staff walked around with trays containing a selection of their starters from their evening menu. In fact this is a great time to also applaud their staff as they were always smiling and chatty, something that sadly has become a rarity these days.
The food with simply incredible and included curried vegetable soup, sweet and spicy chicken wings, tempura prawns with a lovely mango and pineapple salsa, bruschetta, a combo of nuts and cheese served in a salad leaf, potato skins and cured salmon on beetroot.
There was not actually one dish we did not like. Everything was carefully thought out and the flavours were a joy to experience.
This was all washed down with what seemed like an endless supply of Pimms.
I had a quick walk around the establishment and it really is a lovely place. The décor is inviting and fun with little quirky touches. There is also a large area available for hire for private functions and with space inside and out for dining it is definitely an all-year round venue.
Just as I was heading back outside to the veranda the sweets started coming out which included chocolate brownies, meringue with berries, cupcakes and some stunning Oreo and amaretto milk shakes.
The tasting menu launch was a genius idea as it introduced their food in the best way possible. We are definitely heading back to have a meal in the evening, and just worth adding, they also do a Sunday roast.
Well done Neli G's for one of the best launches I have been to in eleven years of living on the coast. They have certainly gained more customers as a result and we are some of them!