New La Sala CEO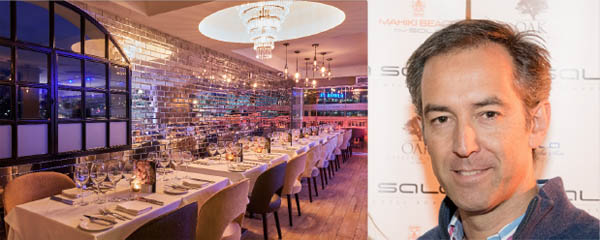 Most visitors to Marbella will be fully aware of the La Sala Group venues such as La Sala by the Sea and La Sala Banus. They have become two of the 'must visit' venues for holiday makers and residents of Marbella alike and attract thousands of visitors every year.
The group have expanded their services over the last few years with the roll out of La Sala Chigwell being a good example of their ambitious plans. Last year also saw La Sala Banus host the world famous sky dining experience, with many locals and tourists enjoying dinner in the sky with amazing views out over the port.
The nightclub below the main La Sala venue in Puerto Banus, Aqwa Mist is popular for party goers and hosts many special nights during the summer, often with international DJ's and famous music acts.
As part of La Sala's ambitions to continue their growth they have today announced the appointment of a new CEO, Federico González.
Federico will guide the La Sala group through the next, and most ambitious phase of their expansion with the launch of new beach clubs, and an alliance with a well-known and prominent hospitality group who operate on a global basis.
Federico González takes up his appointment on 6th February and offers the La Sala Group some fantastic experience. Having graduated with a law and economics degree from Deusto University in Bilbao, Federico went on to gain an MBA from INSEAD business school in France.
Federico has already worked at with some major brands like Audi UK and his broad skills and natural entrepreneurial instinct will be a major asset to the group's expansion plans.
The former CEO since 2012, Steve Hampson is looking forward to Federico starting and said "Fede is an excellent fit for our business, his local and international experience will prove invaluable as the group formalises expansion plans for 2017/18"
Steve will still be an important part of the La Sala management team staying on as a Director to focus more on International and Strategic Affairs.