Rocky Horror Show
On Friday 16th October we headed to the Salon Varietes Theatre in Fuengirola for their highly acclaimed production of the cult stage version of 'The Rocky Horror Show'.
Having rushed home from work I was greeted by Hannah dressed (well, dressed is possibly pushing it a bit to be honest) in a Basque, short skirt and purple wig.
The night before I had managed to find a 'blood stained' white shirt (from the previous year's Halloween party), and some black trousers, and I had taken a pair of scissors to a black Armani jacket which was always slightly too big for me (as you do) With the help of Hannah's quite incredible wig making skills, I was all set to become 'Riff Raff' for the evening.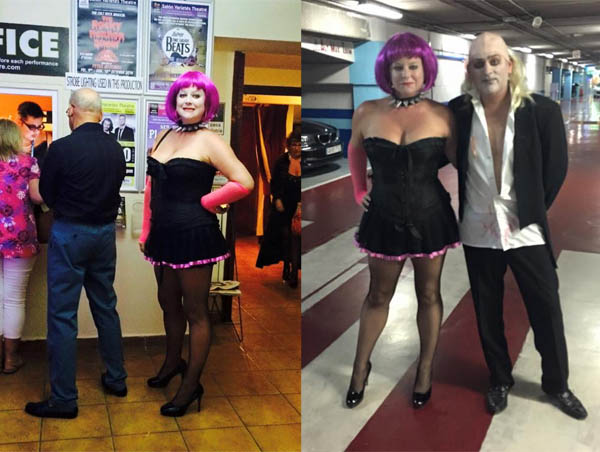 Off we went in full Rocky Horror regalia via a quick (and slightly embarrassing) stop in Elviria to drop off a baby food order to a new customer (we also run Expat Baby Shop). Despite the hoodie my blood stained shirt was still visible so I had to quickly explain where we were off to so as to avoid a panic call to the police.
We arrived at the underground car park in Fuengirola and Hannah kindly made up my face heavily in white makeup and black eyes. With wigs and costumes complete we had to walk from the car park towards the theatre, to some rather strange and disturbed looks.
We were confident that as we approached the theatre we would fit in with everyone else in their Rocky Horror outfits – how wrong we were!
As we entered we appeared to be the only people dressed up, that was until Wren and Bernie (Hannah's parents) arrived also in fancy dress. But we needn't have worried as more people arrived a little later on.
The performance was incredible with all parts played perfectly, and all songs performed to the highest quality. We could quite easily have been watching the show in the West End.
People were up dancing to the very first song and the audience participation was 'lively' and quite interactive to say the least.
We were all gripped and joined in as much as we could. The whole evening was a magnificent experience and we all got up and danced to the 'Time Warp' at the end. During the break someone came up to me and Hannah and asked how long we had been practicing for. Our costumes were that good people thought we were part of the cast. I was even asked to pose for photographs with numerous female fans of the show who were also in the audience. They were all dressed up in a similar style to Hannah (i.e not wearing that much at all). My job is taxing at times!
Thank you once again Salon Varietes for another magnificent show directed Peter Mitchell with Sylvia Griffith doing a grand job as musical director. If you are staying in Marbella and fancy a fun night at the theatre just up the road in Fuengirola, make sure you check out their website to see what is coming up.
C/ Emanicipación, s/n, Fuengirola 29640
www.salonvarietestheatre.com
boxoffice@salonvarietestheatre.com
Box Office Telephone (+34) 952 47 45 42
Opening Hours:
Mon. – Sat. 11'00 – 14'30
They are also open one hour before any show