Sailing Yacht A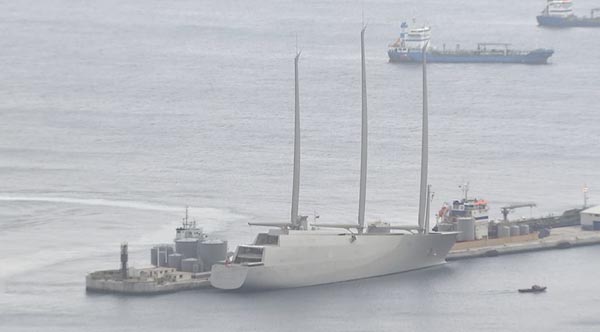 Well it is all kicking off in Gibraltar right now (and that is not a 'Trumpism' like his Sweden comments over the weekend). It's nothing to do with sovereignty or border queues, no disputes or even cigarette smuggling. The story making the national headlines over the last few days concerns the impounding (it is officially called 'Ship Arrest') of one of the biggest and most expensive superyachts in the world, with possibly the most unimaginative name ever, 'Sailing Yacht A'.
Gibraltar is one of the places that yachts can be arrested. If there is a claim filed against a yacht or its owner, the ship can quite literally be taken into custody until the case is heard or resolved.
It is not often however that one of the world's biggest and most modern superyachts is the one being arrested. The yacht is owned by Russian billionaire Andrey Melnichenko and it has been stuck in Gibraltar since last Wednesday because it is alleged that a claim was filed by Nobiskrug for outstanding fees.
The 143m yacht is said to have cost over €400 million. It is one of the most modern and most expensive in service boasting three masts and a gross tonnage of 12,600.
It has been reported (source BBC website) that Nobiskrug is still owed €15.3 million in fees and they have made the claim as a result.
So what happens to arrested ships if the claim is not settled?
According to the Gibraltar Port Authority (GPA) they told the BBC reporter that "most arrested ships are sold in a sealed-bids auction within six to eight weeks, once the claim has been proved and judgment given".
With such a high profile and expensive yacht now is custody there are full-time security guards employed to look after it until decisions have been made about the settlement and the case.
Some facts about the yacht:
It was designed by Philippe Starck
It has an underwater observation pod
It is a hybrid diesel and electric
It has some of the best navigation systems available
We await news…