Sala Super League Month 2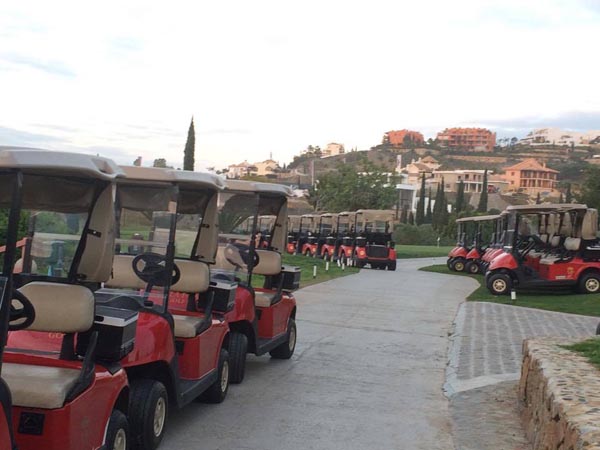 As I write this review of month two of La Sala Golf Super League the rain is literally lashing down and the wind is howling. How much difference 24 hours can make is quite unbelievable.
We are thanking our lucky stars that we had hot sun beaming down on us Saturday as we rolled up for the second event of the year. This time the venue was Los Flamingos golf course and Team Tee R E arrived nice and early so we could have a team talk. Only joking we wanted coffee and Bill was in desperate need of a bacon sandwich having been cruelly denied the opportunity at the first event.
Much of the early discussions centred around Bill's sandwich and whether it should come with dressed salad or not. Not sure any conclusions were reached though in the end.
Fed and watered and having collected the 2017 golf shirts from Lindsey and her team we headed off to tee number six, our first hole. There was another team starting on number six too so we let them tee off ahead and watched as they all smashed drives right down the middle of the fairway. Once they were a safe distance ahead we all stepped up and amazingly all hit the middle of the fairway too.
We were off to a blistering start and that continued for most of the 18 holes. Bruce Mac was in exceptional form and carded a score of 39 that earned him third place in the individual scores.
It was a good day at the office for all of us despite a few 'air shots', 'water shots' and even landing in a tree. I think the two gin and tonics enjoyed by 10.30am thanks to various sponsors at some of the tees, helped loosen us all up and possibly led to a few additional shouts of FOUR from various teams.
The golf gods were with us Saturday though as a few times we clattered into some trees only to watch our balls bounce back right into the middle of the Fairway. Tee number one was attended by 'Marilyn Monroe' which distracted us a little bit, can't think why though. But being the professionals we are, we managed to put it behind us (with a few glances back) and continue the round. It really was a great day out and the course was in great shape. I think we all might have even got a bit of a tan.
Another amazing event organised by Lindsey and her team at La Sala Super League. After the golf we headed back to La Sala Banus for some well-deserved complimentary beer and canapés.