Sala Super League Month Three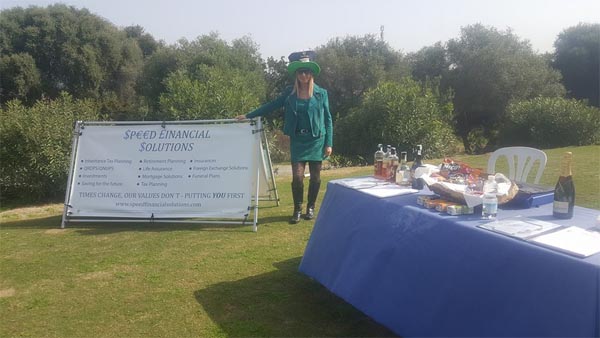 The rain poured down during the week but once again the sun was out and shining bright for the Sala Super League Golf event. This month we headed down the coast to La Cañada in Sotogrande.
There was a St Patrick's Day feel to the event with special hats left in the carts for people to wear and some players even sported nice bright green or orange trousers (although I am not convinced this was actually to honour the day, it was just their normal attire).
The course was in great shape and is in total around 5.8kms. The course was designed in two halves with nine holes being designed by David Thomas and the other nine by Robert Trent Jones Senior.
Team Tee R E arrived in plenty of time as usual for coffee and a natter (I mean team talk of course). We even had time to hit a few balls on the driving range before setting off in our buggies to find our starting tee, tee number six.
Steve led the way and decided to take the scenic tour of the front nine holes before returning virtually from where we started. Anyway we made it with minutes to spare before we all hit perfect drives down the fairway.
We found the course challenging with the balls sloping down the fairways so they ended up in the opposite place the drives took them. I think we all managed to find, and hit a few trees during the game.
The greens were playing very fast and it took us a few holes to get to grips with this. Thankfully we were saved by the three booze stops along the way, one of which was the beat the pro / nearest to the pin. We told him not to bother getting up as we all managed to lose our balls in the water, except Steve who hit the green (show off). Jason Tucker however stole the show at this hole with a hole-in-one earlier in the day.
Our Bruce was very close to getting closest to the pin with a second shot, but it was not good enough and no prizes for close, but not close enough. Steve started off in fine form with back to back pars, before tailing off.
I think overall it is safe to say that we did not play that well and our scores reflected it. In fact one of us (not mentioning any names Bill) could quite easily have been a candidate for the wooden spoon. But thankfully a guest player managed a whopping two points while another was also lower than our team member's score.
Regardless of points scored it was a very enjoyable day out and we are already looking forward to the next game in April.