Sarah Carter Interview
I have been lucky enough to work with Sarah Carter of Golden Tarts right at the beginning of her 'Golden Tart' domination. I was pleased to ask her a few questions that many of you may well be interested to hear the answers to!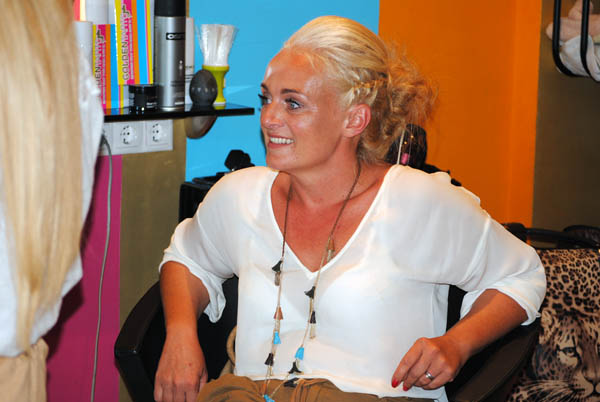 1) What brought you to Marbella in the first place?
A change of lifestyle – My sister was already living here and I enjoyed the way of life Marbella supplied. I had the chance to take redundancy and sadly my Father passed away around the same time, so I felt it was the right time for a change.
2) How did the concept of Golden Tarts come about?
Having never run a salon before I did a lot of research about setting up a salon and the main theme I picked up on was the importance of creating a community and being active on Social Media – Golden Tarts was born!
3) If you could choose anyone to walk through the doors of Golden Tarts for a treatment, who would that be?
Lord Sugar – I have a business proposal for him!
4) You have done the hair and beauty treatments on a number of top celebrities and reality tv stars, but who stands out the most for you and why?
All of the celebs and reality stars who have visited us at Golden Tarts have stood out in their own way. The Towie gals and guys are always great for us . Lydia, Arg, Chloe, Jess and Gemma have supported us from the start. Vicky from Geordie Shore is always brilliant fun, Gaz from the same show was hilarious, though Ella aka Selfie Tart ended up seeing more of him than she wanted to while giving him a spray tan! Rebecca Ferguson was super friendly and had a lovely energy and of course the members of The Life on Marbs cast are regulars and always good for a bit of goss!
5) You have 2 shops, appeared on various TV shows and now are one of the stars of Life on Marbs, what is next for you and Golden Tarts?
We are looking to open a Golden Tarts in all holiday destinations around the world, starting with the Spanish Islands and also expanding in main land Spain. We also have merchandising and product in the pipeline which we are concentrating on getting out there later this year. We want Global Tart domination!
6) Talking about you, Sarah Carter, what is your proudest moment so far?
Without doubt the addition of my two little tartlets Abi and Baby Mikey.
7) Living in Marbella means almost constant sunshine and parties, but where do you like to go to get away from it all?
Tarifa – a favourite chill out spot for my family. We enjoy lazy days by the sea, horse riding on the beach, wandering around the town and enjoying the amazing fresh food.
Quickfire Questions:
1) Favourite Film
Buster
2) Favourite TV show
The Tudors and Wolf Hall – bit obsessed with the reign of Henry Vlll.
3) Last book you read
The Colour Purple by Alice Walker – Irish Tart bought me a copy recently
4) Last album you bought
Erasure in a nostalgic moment – maybe a bit intoxicated too.
5) Last meal out you went for
Mena in Orange Square with my family and visiting friends from the UK.
Finally what is the best way for people to get in touch and book appointments with Golden Tarts
Whatsapp 0034 618616055
Call 0034 952493768 (La Cala)
0034 952811820 (Puerto Banus)
Facebook, Instagram or Twitter (@goldentarts)
Email golden-tarts@live.co.uk
website www.goldentarts.com …. Phew