Sting Concert Fuengirola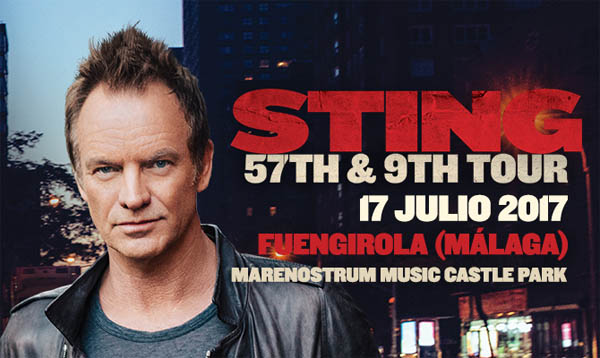 More great concert news for the Costa del Sol is the announcement that Sting will be playing the Marenostrum Music Castle Park in Fuengirola on 17th July 2017.
The concert comes off the back of his most recent album release 57th & 9th and having already sold out in some venues across USA and Europe, it is anticipated that demand for tickets to see Sting in Fuengirola will be extremely high and will also sell-out fast.
The concert is being organised by Live Nation and Riff Productions and the tickets to see Sting in Fuengirola can be purchased directly from the Riff Productions website at http://www.riffmusic.es.
The concert is part of the 57th and 9th tour where Sting will be joined by three musicians on stage including his regular tour guitarist Dominic Miller, on drums Josh Freese and second guitarist Rufus Miller.
The 57th and 9th album released back in November 2016 is the first pop/rock work for around ten years, making this a special concert to experience.
Sting adds to the big names already heading for the Costa del Sol this year such as Elton John, Andrea Bocceli, George Benson, the Beach Boys and Jamie Cullum, but to mention a few.
It is also good to see more concerts announced in Fuengirola as usually most acts play down in Marbella.
2017 is already gearing up to be a great musical year on the coast and we look forward to even more announcements over the coming months.