Review of Trattoria L'Impronta
Last night we decided to visit our most local restaurant, Trattoria L'Impronta, a mere 5 minutes from our house in San Pedro de Alcantara, Marbella.. We had been promising ourselves a visit since we moved in around November, but had never quite managed it, and you know how we love to try new restaurants in Marbella and beyond!

AVAILABLE UNTIL END OF AUGUST
Well that has changed at last and I have a feeling we could be regular patrons of this amazing Italian restaurant. Actually saying this was our first visit is not strictly true as we had popped in for a drink and to look at the menu a couple of weeks earlier.
We remembered how the waiter had been very helpful and accommodating on that day. Well nothing had changed; Miguel (the waiter) greeted us like old friends and showed us to our table on the veranda. Although it is still only April it was a lovely night and perfect for some Al Fresco dining.
We ordered some red wine, a lovely bottle of Izadi Rioja 2009 for 19€. It was perfect and such great value considering we have paid in excess of 20€ for some basic 'supermarket' wines in restaurants before.
Just before the wine arrived the waiter brought over some appetizers of stuffed mini sardines and some lovely jamon with chunks of gorgeous Parmesan cheese. Even the bread sticks on the table were nice as they were rosemary flavoured and divine.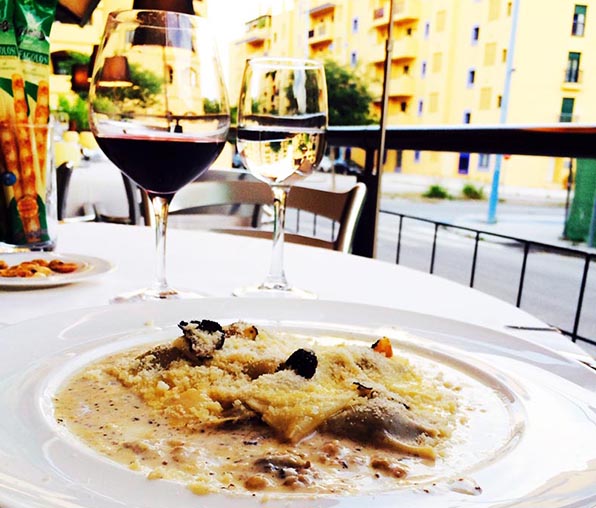 Wine poured we scanned the menu (after hearing the mouth-watering specials). There were so many things we wanted to try. EVERYTHING sounded lovely!
There was a good selection of starters including king prawn pil pil, a warm salad of scallops and wild mushrooms, a tomato, mozzarella and mango salad and fresh seasonal asparagus with either a vinaigrette dressing or hollandaise (that was one of the specials). However we went for the scallops au gratin, which were served in their shells with a lovely garlic and cheese sauce. We decided to share and again the waiter thought on his feet and suggested that as there were only three scallops, we have one extra so we get two each. How many restaurants would even think of offering this?
For our main course Hannah went for the fillet steak and asked whether instead of the pepper sauce it came with, if she could have bearnaise instead. Miguel our waiter replied with an instant 'of course whatever you would like we will do for you because tonight you are the Queen'. How refreshing!
I went for one of my favourite Italian dishes of veal Milanese served with tagliatelle in tomato sauce. We tried a taste of each other's food and both dishes were equally amazing. Hannah's steak was cooked to perfection and my veal was thin and filled the entire plate.
We polished off another bottle of red and were then invited to have a drink at the bar where we had some pacharan (a Spanish 'digestive' liqueur).
All in all our experience at Trattoria L'Impronta in San Pedro de Alcantara, Marbella was amazing. Great food, fantastic service and somewhere we will definitely be visiting again. It was fabulous value for money and comes highly recommended.
The décor is that of a 'London' upmarket Italian restaurant and the addition of the veranda means it is sure to be busy in the summer too.