Hannah Week 11
I always notice that my two colleagues and friends (Selina and Steph) are always wearing such nice clothes. It was getting silly that everytime I said "Oooh nice top", they would always say "Chinese shop – €8".
There are many 'Chinese bazaars' in Marbella and throughout the Costa del Sol that sell practically everything. In fact whatever you need for the home you should always check the Chinese bazaar first before going anywhere else. They are likely to have what you are looking for and usually it will be much cheaper.
Until recently I would never have thought that you could buy clothes of a reasonable quality from there, and which certainly look a lot more expensive than they are.
On Tuesday, Steph took us to the Chinese clothes shop in Marbella that she goes to, so I could see for myself. I bought a few pairs of light trousers that are great for summer (despite looking a little bit like MC Hammer), a pair of jogging bottoms, two pretty tops, and some beautiful white 'strappy' sandals with diamante on them; all for a very good price. Thanks Steph!
After shopping we had to eat (naturally) so went to one of Steph's favourite places in Marbella; Patagonica, an Argentinian tapas chain known for their fantastic meats. If you are a vegetarian, this restaurant is not for you. If you are a meat lover, you really can't go wrong. The place is always busy with locals and tourists alike.
My Dad had kindly offered to host the quiz last week, and it was so nice to take part in the quiz for a change. It's always a tough gig guest hosting a quiz, as I've built up a relationship with the regular quizzers, and they kind of know what to expect from my questions. Before I include a question each week I always imagine who I think will get it right from each team depending on people'' age and interests, and you only know that if you've been doing it for a while I think.
I'll never forget when PJ and I were in Portugal last year, we found a pub with a quiz on, so we of course took part (and thought that we might do rather well) but in fact we came last! We didn't relate to the quizmaster and his style of questions at all!
Last week was Selina's birthday, so a group of us went into Marbella to a lovely restaurant called El Patio de Mariscal, which most of us hadn't been to before. We were sitting in the restaurant area, behind the back of the bar. It was an open air courtyard, with just a tree and some bougainvillea between us and the stars.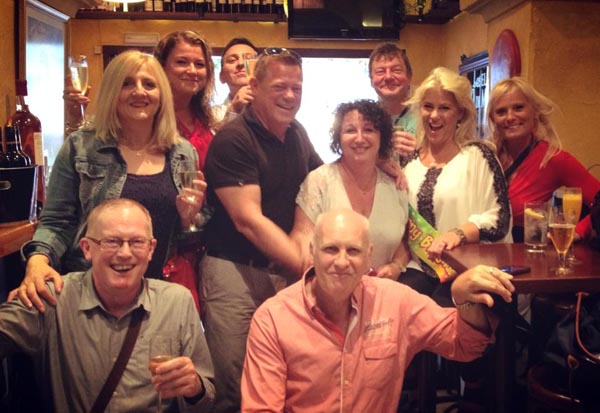 Each time I walk around Marbella Old Town, I always see so many beautiful restaurants that I want to try. It is such a romantic setting, with the al fresco dining on the narrow cobbled streets. There really is an array of places to choose from; from tapas to fine dining. It's well worth a visit if you are on holiday, and a regular outing if you are lucky enough to live here!
On Saturday, the guys played in the La Sala Golf Tournament. They get together once a month and play on a different course. This month they played at Valle Romano in Estepona. They were joined on the course by a very special guest – golf pro and former US Open Champions Michael Campbell. They each in turn had to try and beat him nearest to the pin on a par 3. Needless to say, none of them were even close! What an experience though.
Karen came to my house around midday, and we walked along the beach front from San Pedro to Puerto Banus. It's a lovely walk, a mixture of the San Pedro paseo, a fairly new boardwalk leading up to Banus, and some sandy beach in between. It only takes about half an hour, and you are by the sea the whole way, so it really is beautiful.
After the golf the guys were all going to come to La Sala by the Sea for the food, drink, and presentation of prizes from the day. The venue used to be Sala Beach, and before that Buddha Beach.
Karen had never been, so we popped in to take a look around. I used to host my daily magazine show from there every day throughout July and August, for two years. Not a bad gig! Each year the place has got bigger and better, they now have a dipping pool area around a bar up the top, with comfy seating all around, so Karen and I made ourselves at home for the day! The lovely Hanne is back running the shop and has lots of pretty tops and dresses, as well as some brightly coloured bikini's all for a very reasonable price.
Once the boys joined us after golf and the presentation started. Because they left straight after the game last month and weren't able to hand their score cards in on time, the wrong person (who was there) was awarded the wooden spoon (for getting the lowest score). On Saturday though he handed over to it's rightful owner…Celebrities in Marbella's very own PJ Lopez! I was proud of him for winning something, and followed him to collect it armed with my camera. If I'm honest though, we would get more use (and pleasure) from the magnum of champagne that the winner gets. There's always next month though. You can do it PJ!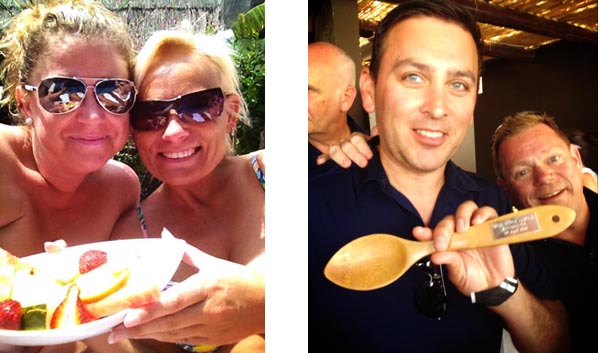 Some of us stayed for a while longer and ordered lunch. They have a female chef from Thailand, and you can really tell she knows what she's doing. The quality of their food is incredible. PJ and I shared the assortment of Thai starters, which was a fabulous selection of food and dips, plenty for the two of us, and really great value at €25. Bill and Karen shared a 'Chicken with cashew nuts and sticky rice', which was also delicious and full of flavour.
Bill lived in Thailand for many years, so if he says that the Thai food in a restaurant is good, then it really is.
PJ and I walked home afterwards, stopping at a couple of places for a quick drink (it's a nice walk but one still gets thirsty) and after nipping home for a brief cuddle with the cat, we ended up at Da Bruno's. Somehow it was dinner time already! I tried something I'd never had before, which is now my favourite. The ravioli filled with pear, gorgonzola cheese and walnuts. Superb!
On Sunday we went to La Virginia Market in Marbella, which takes place just twice a year I think (Christmas and Spring). La Virginia is a beautiful tiny little purpose built village (that can be quite difficult to find) on the outskirts of Marbella town. It is styled to be an old Andalucian mountain village, complete with cobbled paving.
It was an artisan market with lots of homemade crafts, jewellery and clothing. PJ and I went with Selina, Steve and Karen, and met up with my Mum and Dad there.
We stopped off at Trocadero beach bar and restaurant in Marbella afterwards to have a proper sit down and a drink. It's a great location on a nice part of the beach in Marbella, and one of the more 'upmarket' beach restaurants in the area. I hesitate to call it a Chiringuito as it is so much more than that.
Us ladies (and my Dad) took our sandals off and went for a paddle in the sea. It wasn't at all cold, and we all wished we had come prepared for a swim.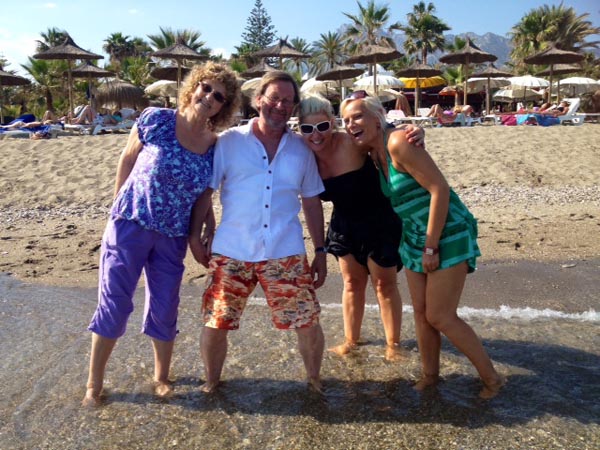 It was another lovely weekend in Marbella. I have the red bits to prove it. Really can't believe it's only May though…and early May at that!