Hannah Week 8
It was a rather interesting week on the radio at Marbella based Talk Radio Europe. I had a lady on the Breakfast Show called Dame Gillian Lynne. She was an ex-ballerina who won awards for her choreography of Cats in 1981 (amongst other things). She has just brought out a fitness DVD at the age of 88! She looks and sounds so much younger than her years though, and chatting to her was really inspiring. She made the idea of doing a bit of exercise every morning sound so easy. Just like having a piece of toast! I had quite a few listeners calling in and emailing, saying how great she sounded.
As it was Easter week (semana Santa as it is known in Spain), I also spoke to Graham Eyes, a Butcher from Southport who had created a special Easter treat for his customer…Scotch Eggs filled with a Cadbury's Creme Egg (instead of a normal egg). Doesn't sound particularly appealing to me, but he said lots of people were giving them a try! He said that they often made themed treats at the butchers for different celebrations during the year.
We had a laugh about his "Love Sausage" that he made for Valentine's Day. I can't even remember what he put in it, I was laughing so much.
On the Book Show last week, I played the interview that I recently recorded with Presenter and Writer Barry Norman, who hosted the BBC's flagship Film program for over 25 years. What a lovely man. He was talking about his memoir 'See You in the Morning' all about his late wife Diane, and their relationship. He lovingly described her as "the best friend a man could ever want".
Some very sad news from last week was the passing of Roy Silverthorne. He worked at the radio station for many years, doing the Afternoon Show, as well as the Saturday Morning Breakfast Show. He had a few health problems, and died far too young at age 67.
One of my first roles at the radio station in Marbella was doing the Entertainment News on Roy's afternoon show, and we had such a laugh together. When I announced his passing on my Breakfast Show last week, many listeners called in to say how sad they were, some of whom were actually in tears. They remembered hearing the two of us laughing together on the radio, and said they always smile when they think of him. I started my show with Baker Street, and ended it with Hotel California, his two favourite songs.
A couple of foodie recommendations from this week. On Tuesday, my friend Kristyn and I met for lunch and went to the Dutch bar, Brasserie El Marques, in the pedestrian street in San Pedro, Marbella. I have been there for drinks many times over the years but not for food. We had a selection of small sandwiches with various fillings. They all came in different shapes and sized rolls, some with poppy seeds and some with sunflower seeds. It was nice to have a selection for a change.
Then Kristyn suggested we shared the Dutch pancakes for dessert. I hadn't tried them before, but I'm glad I did – they were delicious! They are called 'Bismarcks' and are fluffy, baby pancakes served with butter on the side, and powdered sugar on top.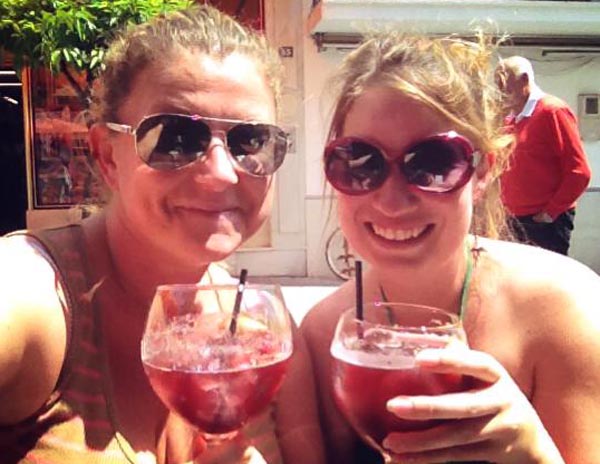 Funnily enough, it was Tuesday that I had gone back to the gym for the first time after my op. Perfect timing!
On Friday night PJ and I walked up to the closest restaurant to where we live (San Pedro in Marbella), a beautiful Italian called Trattoria L'Impronta. We have been wanting to go there for years, but had heard it was very expensive.
But as I mentioned in my blog a few weeks ago, we stopped there for a glass of wine recently, and had a look at the menu. Everything sounded delicious and didn't seem expensive at all.
It was just what you would expect to pay for a really nice meal out, with main courses ranging from about €14 for a simple pasta dish, up for €26 for the fillet steak (which I actually had).
We sat outside on the terrace, and shared some 'scallops au gratin' to start with, they were beautifully presented in their shells, and our lovely waiter Miguel, offered us an extra scallop so we had two each. For me, it's little touches like that, that can make such in difference in how you feel about a restaurant.
For main, PJ had one of his Italian favourites; Veal Milanese with pasta in tomato sauce. I went for the fillet steak with a béarnaise sauce, which was cooked to perfection. Check out PJ's review of this restaurant for more details. We will be going back soon!
It was a very busy Easter weekend in Marbella, with lots of tourists and cars on the road. You had to be very careful as it was raining heavily on and off all weekend. My goodness did the heavens open! It was great actually from the point of view of watering the garden, but not quite how Selina had envisaged Sunday's treasure Hunt!
Weeks ago, Selina said she had organised a treasure hunt for us all. She used to do them in the UK, and wanted to do one here. We were all very excited about the idea with none of us having done one before. Well, she certainly didn't disappoint. We were all in pairs with each pair in a separate car, and were given a set of envelopes, each containing clues and directions to the next clue. Selina had made all the clues rhyme (quite a skill!), and one by one they sent us along the coast, around golf courses, and to the beach, all the way from Cancelada, up to La Quinta.
PJ and I came third, and Debbie and Peter were the winners of the trophy that Selina got engraved especially. Bill and Karen came second, and there was a tie for last place (winning the wooden spoon) it was Julie and Kathryn, and my parents!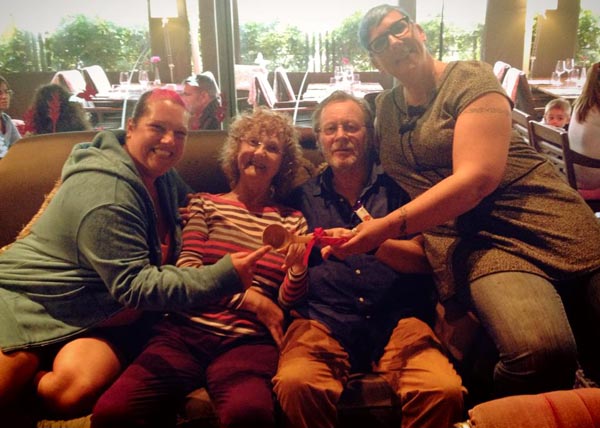 It was a shame about the rain, as Selina had planned to end up in a beach bar, but a great day was had by all. We must do it again sometime.