Jacks Smokehouse Opens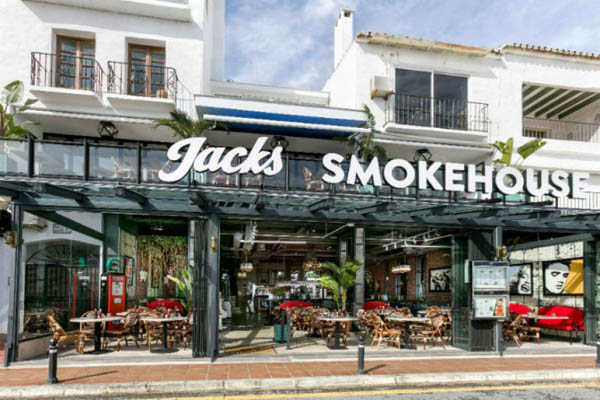 Some more exciting news for Puerto Banus is that Jacks, the well-known restaurant on the front line of the port, has undergone a major refurbishment and change in its style of cuisine.
The new restaurant has kept its name Jacks but has become Jacks Smokehouse.
So what is a smokehouse?
According to Wikipedia a smokehouse is the North American name for a type of building where meat or fish is cured using smoke. In the UK it might also be known as a 'smokery'.
Smokehouse restaurants are actually very popular in the USA, especially in locations like Texas. So the food is not a million miles away from what Jacks in Puerto Banus was serving before with its Tex-Mex style menu, except that the majority of the food now is based on the smoke cured, slow cooked method.
Jacks Smokehouse has a brand new menu containing lots of lovely smoked food, a brand new and upmarket decor and a new extensive cocktail menu and wine list.
Upstairs you can dine on the open terrace with stunning views out across the marina and the main street, where you can sip your cocktails and do a bit of people watching, a favourite pass-time for many in Puerto Banus.
The new restaurant opened its doors on 14th February for a Valentines launch to offer visitors and residents of Marbella a totally unique dining experience that has never been tried on the Costa del Sol before.
Jacks Smokehouse restaurant is sure to be a massive hit with the thousands of tourists that stream past every year, plus it is likely to bring in many local residents who want to try something new.
The restaurant will be open all day from 10am to midnight serving breakfast, lunch and dinner.
It is great to see new concepts being tried out in Marbella and with a solid name like Jacks you know that the food is going to be of a high standard and the service to match.
In the coming weeks we will be entering Jack Smokehouse (undercover of course) to bring you a truthful review of the food and experience so keep an eye out!